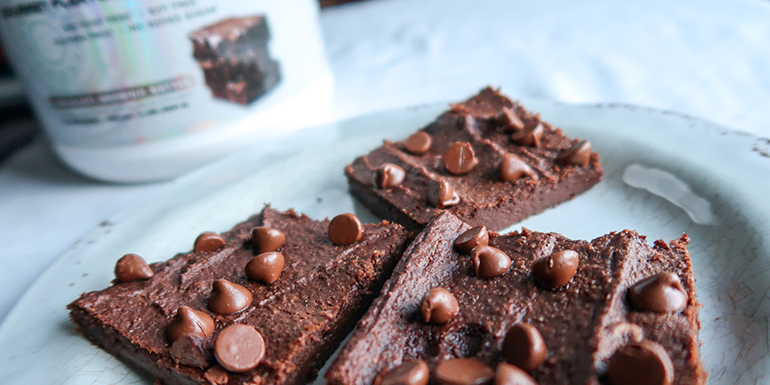 Our new Vegan protein is here and it is a blend of pea and brown rice proteins. Our first recipe is vegan chocolate brownies and they are fudgy and delicious. Dairy free and egg free yet they taste amazing.
Ingredients:
2 T. (28g) coconut oil
2 T. (32g) almond butter or other nut butter
½ cup (120g) unsweetened applesauce
1 tsp vanilla extract
¼ cup (48g) Swerve no calorie brown sugar
¼ cup (20g) Hershey's unsweetened cocoa powder
½ cup (46g) paleo flour
1 scoop (31.5g) Core Nutritionals Vegan chocolate brownie batter
3 T. unsweetened almond milk or other non-dairy milk
1 T. (15g) non-dairy chocolate chips
Directions:
Preheat oven to 325°F. Lightly spray an 8x8 glass baking dish with non-stick spray and set aside. (You can use a loaf pan for thicker brownies).
In a microwave safe bowl, melt coconut oil and almond butter on half power for 20 seconds. Stir until smooth. Add applesauce and vanilla extract. Mix in no calorie brown sugar. Add in dry ingredients: cocoa powder, paleo flour and vegan protein. Alternate adding a T. at a time of nondairy milk until you add 3 T. Stir for 30 seconds until no lump remain.
Spread batter evenly into pan and top with non-diary chocolate chips. Bake for 25 minutes. Let cool for 30 minutes and they will set up to be perfectly fudgy.
Nutrition:
Serving size: 1 serving (40g), 107 calories, 4.1g Protein, 7.7g Carbohydrates, 7.2g Fat Recipe makes 9 brownies