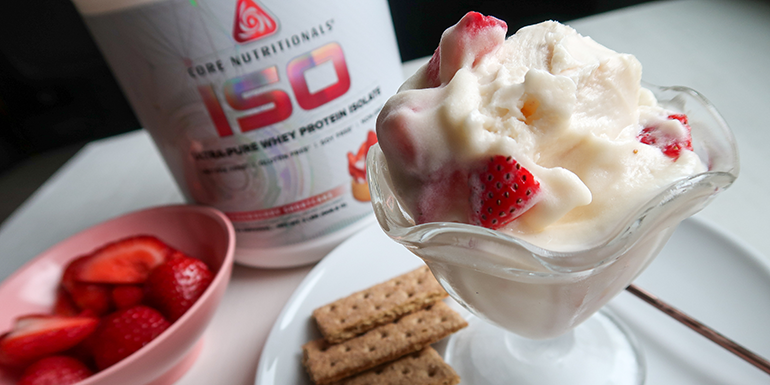 Using a new flavor of Core ISO, strawberry shortcake, this protein ice cream comes together in just 15 minutes. It's low in fat but tastes just like a cheesecake with tasty chunks of strawberries. You could swap strawberry for vanilla yogurt for an extra berry burst. For a non-dairy version,substitute a non-dairy yogurt and milk. Enjoy!
Ingredients:
1 scoop (28.4g) Core Nutritionals ISO strawberry shortcake
½ package (14g) sugar free cheesecake pudding dry mix
150g non-fat vanilla greek yogurt
1 cup (8oz) fairlife skim milk
75g fresh strawberries, diced
Directions:
In a medium mixing bowl, whisk dry pudding mix and protein powder. Add greek yogurt and stir to incorporate while adding milk in slowly. Whisk until no lumps remain. Fold in diced strawberries
Pour mixture into a bowl of an electric ice cream maker and mix for 10-15 minutes. Dish into bowls for soft-serve style. Alternatively, if you do not have an ice cream maker, you can freeze mixture for 2 hours in a Tupperware container, stirring every 30 minutes until it reaches the desired frozen consistency.
Nutrition:
Serving size: 1 serving (140g), 133 calories, 9g Protein, 16g Carbohydrates, 0.3g Fat Recipe makes 3 servings.