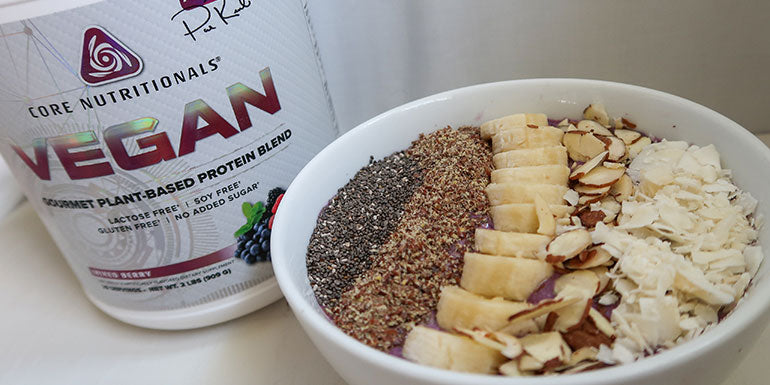 A smoothie bowl is a fun alternative to a shake that is thick enough to eat with a spoon and topped with your favorite nuts, grains and extra fruit. The key is using frozen fruit to make it thick and creamy. Our new vegan protein is a blend of pea and brown rice proteins. When you use a nondairy milk for blending your smoothie bowl is a vegan friendly treat.
Ingredients:
1 scoop (30.8g) Core Nutritionals Vegan Mixed Berry
140g frozen berries (strawberries, blueberries, raspberries and/or blackberries)
½ cup unsweetened almond milk (or other non-dairy milk)
3 ice cubes
1 tsp. (4g) chia seeds
1 T. (6.5g) ground flax seed
1/8 cup. (7g) slivered almonds
1/8 cup (7g) unsweetened coconut flakes
75g sliced banana
Directions:
In a blender, mix vegan protein, berries, almond milk and ice cubes. Stir and shake often until completely blended, mixture it will be thick.
Pour into bowl and decorate with toppings.
Nutrition:
Serving size: 1 serving, 470 calories, 29g Protein, 46g Carbohydrates, 22g Fat Recipe makes 1 bowl
Remember to stay tuned for our upcoming blog posts, where we'll delve into the science behind these bars, discuss the importance of balanced nutrition, and provide expert tips and tricks to optimize your fitness routine. Get ready to elevate your fitness game with our milk and cereal bars – the ultimate fusion of convenience, flavor, and nutrition!