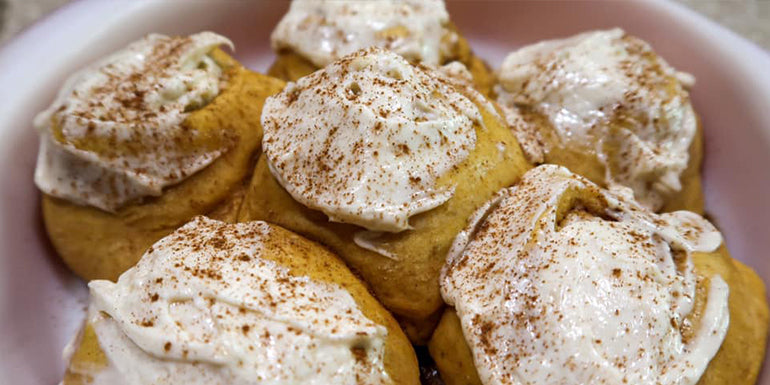 These beauties aren't your ma's basic cinnamon rolls - so we didn't toss a bit of pumpkin spice in the filling and call it a day. Nah, we packed these puppies with a hefty dose of protein and laid the foundation with real pumpkin puree baked straight into the dough.
If there was such a thing as heaven in the fall, these gooey pumpkin spice cinnamon rolls would be your stairway straight to its pearly gates. Now, let's dive into this recipe.
Ingredients: Rolls
1 package (7g) instant yeast
1/2 cup warm water (110 degrees F)
1 T. (12g) no calorie brown sugar sweetener (I used swerve brand)
1/4 tsp. Salt
1/2 tsp. Cinnamon or pumpkin pie spice
1/4 cup (60g) pumpkin puree
2 scoops (65.6g) Core Nutritionals PRO Cinnamon French Toast
1.5 cups (180g) all purpose flour, divided
Ingredients: Filling
2 T. (28g) Light butter
2 T. (24g) no calorie brown sugar sweetener (I used swerve brand)
1/2 tsp. Cinnamon or pumpkin pie spice
Ingredients: Icing
2oz (56g) light cream cheese, softened
10g Core Nutritionals Pumpkin Spice ISO or Pumpkin Pie MRP
Splash of milk if needed to stir icing
Directions:
1. Heat 1/2 cup water to 110 degrees F (about 20-25 seconds in microwave). Pour water in medium mixing bowl and sprinkle yeast on top. Let dissolve for one minute then add salt, sugar and pumpkin pie spice. Stir to dissolve ingredients. Mix in pumpkin purée.
2. Add 2 scoops of protein and 1 cup (120g) all purpose flour. Stir to combine. Slowly add another 1/4 cup (30g) all purpose flour. [Dough can be tricky to add a standard amount of flour due to variability in many conditions. I used another 1/4 cup for rolling and shaping dough for a total of 1.5 cups as listed. Your dough may need slightly more or less.]
3. Roll out dough into flour surface and gently knead for 1 minute. Place in a greased bowl covered with a towel in a warm place for 1 hour to rise.
4. After 1 hour, flour surface and roll out dough into a rectangle. I like rolling my dough on top of a cutting board. (I had approx 430g dough and cut into ~71g pieces for 6 equal sized rolls).
5. Preheat oven to 325 degrees F.
6. In a small bowl, mix softened butter, brown sugar and cinnamon. Spread over rectangle and roll up carefully. Cut into 6 equal sized pieces. (It works well to use a pizza cutter!)
7. Spray a round shallow baking dish with non stick cooking spray. Place cinnamon rolls cut side up in dish.
8. Bake for 17-20 minutes until just brown but the inside is cooked. Let cool slightly.
9. In a small dish prepare icing by mixing softened cream cheese and protein powder. You may need a splash of liquid (milk or water) to mix. Spread frosting evenly over cinnamon rolls.
10. Best served warm and store any remaining rolls in refrigerator.
Macros
1 Pumpkin Spice Cinnamon Roll with Icing:
13.5g protein, 26g carbohydrates and 4g fat
Pro tip: if you can't nom-nom-nom all these right after baking (and you shouldn't unless you've got at least a few friends with you), toss them in the microwave for 15 seconds after taking them out of the fridge. It'll fill the air with the fragrance of fresh baked pumpkin spice while serving up some warm gooey goodness on a cold autumn morning.
Remember to stay tuned for our upcoming blog posts, where we'll delve into the science behind these bars, discuss the importance of balanced nutrition, and provide expert tips and tricks to optimize your fitness routine. Get ready to elevate your fitness game with our milk and cereal bars – the ultimate fusion of convenience, flavor, and nutrition!