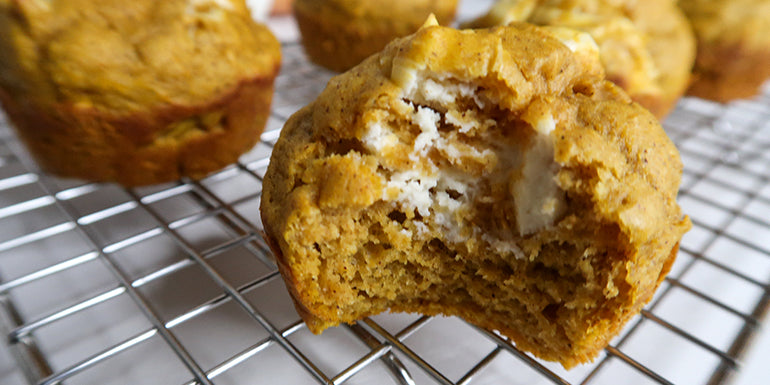 'Tis still the season of Pumpkin and the temptation to fall prey to its siren song sugary treats is an all too real possibility. To help you fight the good fight and deny your baser urges, we've dropped another healthy alternative with our MRP Pumpkin Cream Cheese Muffins.
Now, we're not saying these were directly inspired by a certain Mermaid touting, Seattle-based coffee chain, but we're also not denying it either. We'll let you be the judge. So, what's this week's recipe all about? Try a lightly spiced pumpkin muffin filled with a light cream cheese filling at only 90 calories a pop!
And, since we used our Pumpkin Pie MRP, you know these delicious snacks are packed with protein with a marco profile that won't break your nutritional budget. Let's hop into the recipe:
Ingredients: Muffins
1 whole egg 
1/2 cup (120g) pumpkin puree
50g non-fat vanilla greek yogurt
1/2 tsp vanilla extract
1/4 cup no-calorie brown sugar substitute
1/2 tsp baking powder
1/2 tsp salt
1/2 tsp cinnamon
2 scoops (68.5g) MRP Pumpkin Pie
1/2 cup (60g) all-purpose flour
2 T. low fat milk or non-dairy milk
Ingredients: Filling
2 oz (56g) low fat cream cheese at room temp
10g Core Nutritionals PRO Frosted Vanilla Cupcake
30g non-fat vanilla greek yogurt
Get your Core PRO Frosted Vanilla Cupcake
Directions:
Preheat oven to 325°F. Lightly spray muffin tins with non-stick cooking spray. Set aside
In a medium-sized mixing bowl, combine wet ingredients: egg, pumpkin pure, vanilla greek yogurt and vanilla extract. Add in brown sugar substitute. Mix in dry ingredients: baking powder, salt, cinnamon, protein powder and flour. Add in 2T. milk with flour and mix in gently until no lumps remain. For six even sized muffins, use approximately 50g of batter in each 8 muffins.
In a small mixing bowl, combine cream cheese and greek yogurt. Mix in protein powder. Measure 10g of filling and place in the top of each muffin and gently swirl in with a spoon.
Bake for 12-14 minutes until lightly brown and just set. Remove from tin and place on cooling rack. Store remaining muffins in refrigerator.
Macros
Serving size: 1 Muffin:
90 calories, 6g protein, 10g carbohydrates and 2.6g fat
Recipe makes 8 muffins
Remember to stay tuned for our upcoming blog posts, where we'll delve into the science behind these bars, discuss the importance of balanced nutrition, and provide expert tips and tricks to optimize your fitness routine. Get ready to elevate your fitness game with our milk and cereal bars – the ultimate fusion of convenience, flavor, and nutrition!