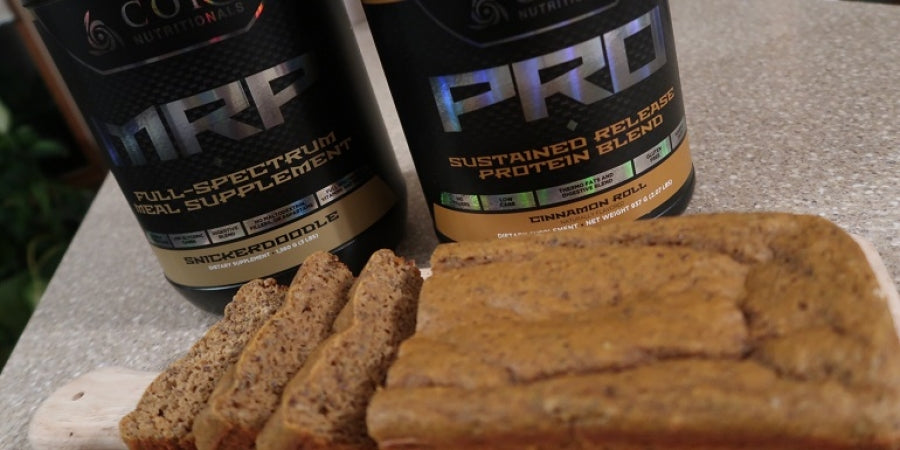 Pumpkin-inspired food may be most popular in the fall, but let's face it—there's never a bad time for making some good ole' pumpkin bread! Even though it may remind you of October and Halloween, we made sure there weren't any tricky ingredients in this version!
Ingredients:
1 scoop (32g) Core Nutritionals PRO Cinnamon Roll
1 scoop (34g) Core Nutritionals MRP Snickerdoodle
½ tsp. baking soda
1 tsp. baking powder
1 tsp. pumpkin pie spice
1 tsp. cinnamon
¼ tsp. salt
2 T. (13g) ground flax seed
2 T. (12g) chia seeds
¼ cup no-calorie sweetener
½ cup (120g) pumpkin puree
¼ cup sugar free pancake syrup
1 tsp. vanilla extract
1 whole egg
Directions
Preheat oven to 350° Fahrenheit. Purée bananas, then combine all wet ingredients and blend until smooth. Combine dry ingredients and mix well, then stir in wet ingredients and mix well. Pour batter into a lightly sprayed loaf pan and bake for 30-35 minutes. Take out and allow to cool slightly before serving. Store remaining bread in the refrigerator.
Macros
Serving Size: 1 slice bread
Servings: 8
70 calories
2g Fat
6g Carbohydrate
7g Protein