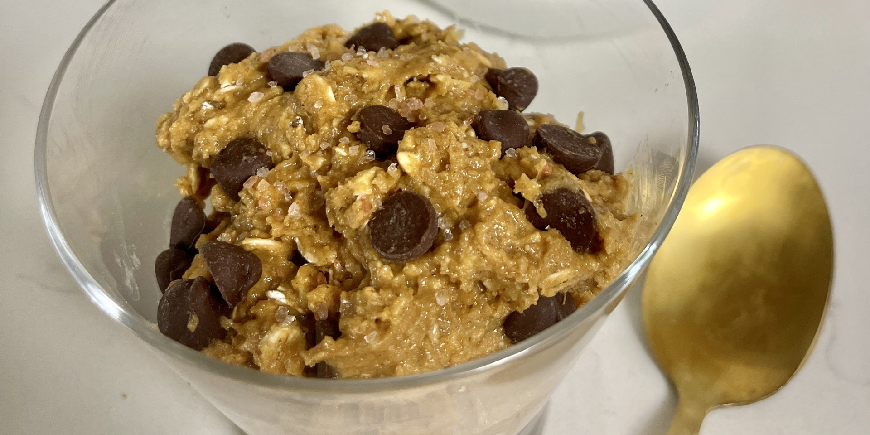 What's up Crush It Crew! 
Let's be honest, baked cookies are amazing, but sometimes there's nothing quite like indulging in straight up cookie dough. I've created a recipe that's packed with protein and made without eggs, so you can dig right in without the fear of getting sick! 

Before we begin, if you are just looking for the recipe breakdown and instructions, please scroll down to the instructions and get in the kitchen! However, for those looking for a bit more detail before getting in the kitchen, please read on as we go over the justification and secrets behind this delicious Crush It Café recipe!
Cookie dough deserves to take center stage, and we're taking it to the next level with a pumped-up twist that's both nutritious and delicious. Whether you're a seasoned fitness pro or someone new to the game, this recipe is guaranteed to become your go-to treat. And don't worry, we're not skimping on flavor – in fact, we're turning up the taste with the unbeatable combo of classic peanut butter and chocolate chips!
When it comes to fitness and nutrition, striking the right balance of macronutrients is essential. Our Pumped Up Protein Cookie Dough contains 22g of carbohydrates, 4g of fats, and 12g of protein for just 174 calories per serving! It's the ultimate guilt-free indulgence that keeps you fueled and ready to tackle your workouts.
So, what's in this magical concoction? Let me break it down for you:
Peanut Butter Oatmeal Cookie MRP (Meal Replacement Powder) - our meal replacement blend provides the foundation for our cookie dough, ensuring a rich peanut butter flavor that we all know and love.

Oats - adds a hearty texture and a boost of fiber to keep your stomachs satisfied.

PB2 - We all love the creaminess of peanut butter, but we're keeping things in check with PB2 – a powdered peanut butter with a fraction of the fat, but all the flavor.

Light Brown Sugar - A touch of sweetness to enhance the cookie dough experience.

Chocolate Chips - Because what's cookie dough without chocolate chips?

A Pinch of Salt - salt helps balance the flavors and elevate the taste.
This one couldn't be easier! Just mix the PB2 powder with water until you get a thick peanut butter consistency. Next, combine all the remaining ingredients together and let the batter sit in the freezer for about 30 minutes. Once it's hardened up some, grab a spoon and get ready to indulge in cookie dough heaven!
Whether you're celebrating a fitness milestone, treating yourself after an intense workout, or simply satisfying your sweet tooth, this Pumped Up Protein Cookie Dough is the way to go. Who's excited to give this one a try?
Recipe Ingredients and Instructions: 
To get baking, continue reading from here for a detailed look including step-by-step instructions and a breakdown of the ingredient list.
Ingredients: 
69g (2 scoops) Peanut Butter Oatmeal Cookie MRP
30g oats
39g PB2
20g light brown sugar
14g chocolate chips
1/8 tsp salt
Directions:
1. Mix PB2 powder with water until you get a thick peanut butter consistency.
2. Combine all remaining ingredients.
3. Freeze for approximately 30 minutes.
4. Enjoy your delicious Pumped Up Protein Cookie Dough!
Nutrition:
Serving size = 1/4 of the recipe
Macros: 174 calories, 12g Protein, 22g Carbohydrates and 4g Fat

*recipe makes 4 servings*
Remember to stay tuned to our newsletter and social media feeds for future Crush It Café recipes, nutrition tips and product launches.
About the Author: 
This recipe was created by Emily Interwicz, one of Core's sponsored athletes. You can follow Emily for exercise, nutrition and bodybuilding tips via her Instagram page @emilylauren_d

Emily became a Core Nutritionals Sponsored Athlete after 3 years of being an Ambassador and living the Crush It Lifestyle. She owns E.L. Fit - an online fitness and nutrition coaching business where she helps others on the path to living their best and healthiest lives. She also competes in both the NPC and NANBF as a natural bikini athlete.