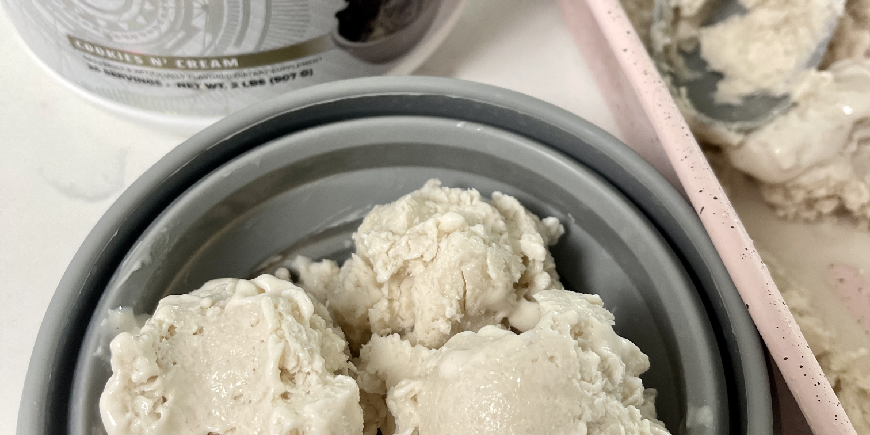 What's up Crush It Crew! 
I hope you're all feeling pumped and ready to take on new challenges in your fitness journey. As a natural bodybuilder, bikini competitor, and proud sponsored athlete for Core Nutritionals, I'm always on the lookout for ways to fuel my body and keep foods fun. Today I have something truly unique to share with you guys. It's a recipe that combines two unlikely ingredients into one protein-packed treat!
I bet you'd never expected to hear "cottage cheese" and "ice cream" in the same sentence, right? Believe it or not, cottage cheese is not only a protein powerhouse but also incredibly versatile. It's been receiving a lot of love lately in the fitness community and for a good reason! We just had to give this viral recipe a try, but of course, with our own Core twist!
Before we begin, if you are just looking for the recipe breakdown and instructions, please scroll down to the instructions and get in the kitchen! However, for those looking for a bit more detail before getting in the kitchen, please read on as we go over the justification and secrets behind this delicious Crush It Café recipe!
Let me introduce you to the incredible creation that is "Cottage Cheese Ice Cream." Trust me, even if you're not a cottage cheese fan this one might change your mind! Each serving provides 8g of carbs, 2g of fats, and 24g of protein, all packed into just 153 calories.
This one is actually incredibly easy to make! All you need is 450g of low-fat cottage cheese and 35g (1 scoop) of our very own Cookies & Cream PRO protein powder. If the texture of cottage cheese is a total ick-factor for you, don't stress. We'll blend both ingredients together to make a perfectly smooth ice cream base. 
Once blended to perfection, pour the mixture into a container with a lid and let it freeze for at least 6 hours. Patience is key here, but I promise you, it will be well worth the wait. Before digging in to this protein-packed treat, allow it to defrost for about 15 minutes to achieve that perfect, ice cream consistency.
I can't wait for you to try this out and share your thoughts with me. Whether you're looking for a post-workout protein fix or simply craving something sweet, Cottage Cheese Ice Cream is about to become your new go-to treat! 
Recipe Ingredients and Instructions: 
To get baking, continue reading from here for a detailed look including step-by-step instructions and a breakdown of the ingredient list.
Ingredients: 
450g low-fat cottage cheese
35g (1 scoop) of Cookies & Cream PRO
Directions:
1. Blend both ingredients in a blender until smooth.
2. Pour into a container, cover, and freeze for at least 6 hours.
3. Defrost for about 15 minutes before serving.
4. Enjoy your delicious Cottage Cheese Ice Cream
Nutrition:
Serving size = 1/3 of the recipe 
Macros: 153 calories, 24g Protein, 8g Carbohydrates and 2g Fat

*recipe makes 3 servings*
Remember to stay tuned to our newsletter and social media feeds for future Crush It Café recipes, nutrition tips and product launches.
About the Author: 
This recipe was created by Emily Interwicz, one of Core's sponsored athletes. You can follow Emily for exercise, nutrition and bodybuilding tips via her Instagram page @emilylauren_d

Emily became a Core Nutritionals Sponsored Athlete after 3 years of being an Ambassador and living the Crush It Lifestyle. She owns E.L. Fit - an online fitness and nutrition coaching business where she helps others on the path to living their best and healthiest lives. She also competes in both the NPC and NANBF as a natural bikini athlete.