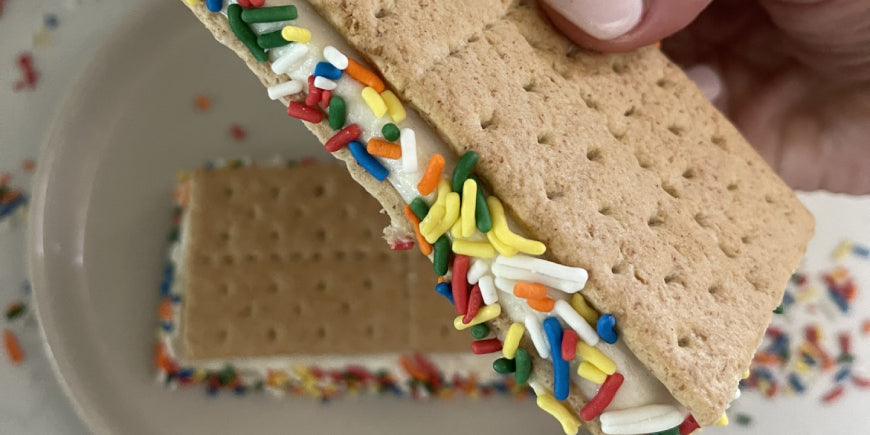 What's up Crush It Crew! 
I hope you're all having a killer summer and continuing to crush it in your fitness journey. As a natural bodybuilder, bikini competitor, and proud sponsored athlete for Core Nutritionals, I know that staying on track with your nutrition and fitness goals can sometimes feel like a challenge, especially when your temped by all the summer time treats. But guess what? It IS possible to have your cake and eat it too – quite literally!

I like to live by the phrase- "It's always someone's birthday somewhere, so why not celebrate daily!" Every day should be celebrated and that doesn't have to mean you're negatively impacting your health and fitness goals! So what's the best way to celebrate a birthday? With birthday cake and ice cream of course. And don't forget the sprinkles! So we are combining both into one delicious, protein packed treat!
Before we begin, if you are just looking for the recipe breakdown and instructions, please scroll down to the instructions and get in the kitchen! However, for those looking for a bit more detail before getting in the kitchen, please read on as we go over the justification and secrets behind this delicious Crush It Café recipe!

Picture this: an ice cream sandwich that not only satisfies your sweet tooth but also helps you meet your daily protein needs. Dreams do come true! I present to you the ultimate creation: Birthday Cake Ice Cream Sandwiches!

We've created these ice cream sandwiches to fit into your everyday diet without derailing your progress. With a good balance of proteins and carbs, and keeping fats on the lower side, these can be a great pre workout snack to fuel your training, a post workout treat to refuel those muscle or a healthy dessert to enjoy any time of day.

Here's What You'll Need:

33g of Core Nutritionals Frosted Vanilla Cupcake PRO protein powder
150g of low-fat Greek yogurt
62g (approximately 4 sheets) of graham crackers
Sprinkles of your choice
How to Assemble Your Birthday Cake Ice Cream Sandwiches:

Begin by mixing the Core Nutritionals Frosted Vanilla Cupcake PRO protein powder with your low-fat Greek yogurt. This should be THICK!

Take two graham cracker sheets and evenly spread your protein-packed yogurt mixture on top. Top each with the remaining graham cracker sheets.

Pop your soon-to-be birthday cake ice cream sandwiches into the freezer for a minimum of 2 hours.

Once your sandwiches are frozen solid and ready to be enjoyed, you're ready to coat all edges with sprinkles. Because what's a birthday cake without sprinkles? I found it was easiest to pour sprinkles onto a plate and then dip each edge of your sandwich into them, making sure to coat all your sides evenly. These will start to melt relatively quickly, so make sure you're ready to dig in immediately. But I'm sure you'll have no problem with that!

Okay all my fellow fit foodies, who's ready to start celebrating birthdays daily year round? With Core Nutritionals and a little bit of healthy creativity, you can truly have it all – the gains, the flavor, and the fun!
Recipe Ingredients and Instructions: 
To get baking, continue reading from here for a detailed look including step-by-step instructions and a breakdown of the ingredient list.
Ingredients: 
33g of Frosted Vanilla Cupcake PRO 

150g of low-fat Greek yogurt

62g (approximately 4 sheets) of wholesome graham crackers

A sprinkle of colorful confetti sprinkles to top it all off



Directions:
1. Mix protein powder and Greek yogurt. Mixture should be thick.

2. Spread evenly on 2 graham cracker sheets & top each with remaining graham crackers.

3. Freeze for at least 2 hours. Once solid, coat edges in sprinkles.
4. Enjoy your delicious, protein-packed ice cream sandwiches!
Nutrition:
Serving size = 1 sandwich
Macros: 235 calories, 21g Protein, 28g Carbohydrates and 5g Fat

*recipe makes 2 servings*
Remember to stay tuned to our newsletter and social media feeds for future Crush It Café recipes, nutrition tips and product launches.
About the Author: 
This recipe was created by Emily Interwicz, one of Core's sponsored athletes. You can follow Emily for exercise, nutrition and bodybuilding tips via her Instagram page @emilylauren_d

Emily became a Core Nutritionals Sponsored Athlete after 3 years of being an Ambassador and living the Crush It Lifestyle. She owns E.L. Fit - an online fitness and nutrition coaching business where she helps others on the path to living their best and healthiest lives. She also competes in both the NPC and NANBF as a natural bikini athlete.