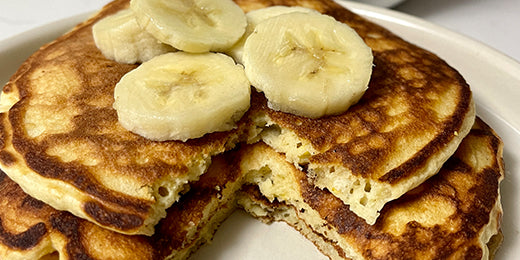 It's time for another Crush It Cafe recipe and a first for one of our top-selling products: Core PUDD'N! 
While PUDD'N was designed to create the best protein pudding, sludges and ice cream imaginable, with a silky smooth consistency, it's more versatile than that! Thus, we bring you our PUDD'N Pancakes! A delicious and nutrient dense pancake recipe with added protein and a light, fluffy and silky texture. 
To get baking, continue reading from here for a detailed look including step-by-step instructions and a breakdown of the ingredient list.
Ingredients:
30g pancake mix 
25g (about 3/4 of a scoop) Core PUDD'N
1 egg
Pinch of baking powder
Directions:
1. Whisk together all ingredients in a bowl.
2. Add a little water to thin out some if needed.
3. Cook in a sprayed pan on the stove over medium heat.
4. Using a lid on the pan helps the pancake cook more evenly.
5. Once you start seeing a few bubbles on to, flip pancake to cook on the other side. 
6. Enjoy!"
Nutrition:
Serving size = 1 pancake
290 calories, 23g Protein, 27g Carbohydrates, 10g Fat
*Makes roughly 3 medium sized pancakes*
About the Author: 
This recipe was created by Emily Interwicz, one of Core's sponsored athletes. You can follow Emily for exercise, nutrition and bodybuilding tips via her Instagram page @emilylauren_d

Emily became a Core Nutritionals Sponsored Athlete after 3 years of being an Ambassador and living the Crush It Lifestyle. She owns E.L. Fit - an online fitness and nutrition coaching business where she helps others on the path to living their best and healthiest lives. She also competes in both the NPC and NANBF as a natural bikini athlete