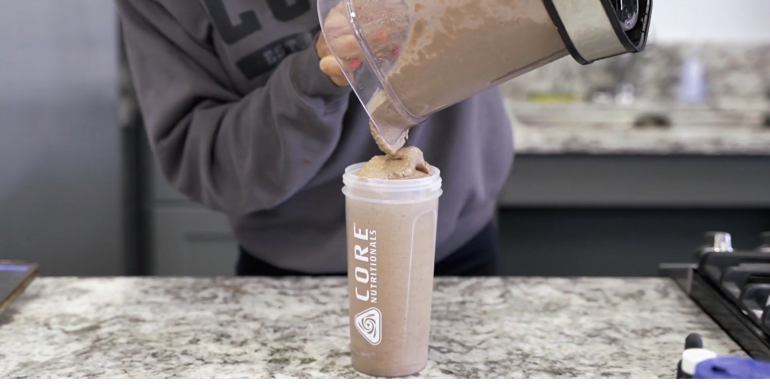 It's time for another Crush It Cafe recipe, this time from Core sponsored athlete Katie Anne! This is one of her go-to recipes as it's a quick and delicious smoothie with tons of protein and added fiber! 
To make the smoothie, either watch the YouTube video below or continue reading from here for a detailed look including step-by-step instructions and a breakdown of the ingredient list.
Ingredients:
1 cup of non-sweetened vanilla almond milk 
40-45g of whey isolate protein powder (PRO Chocolate Decadence)
1 drop of either liquid stevia or sucralose 
1 teaspoon of almond extract
A pinch of salt to taste
100g of frozen bananas
15g or 3 tablespoons of dark chocolate cocoa powder
Approximately 30 ice cubes or 5 cups of ice
Directions:
1. Put your blender on a scale and zero the scale out. This way, you can measure right inside the blender, which makes the entire process easier and more efficient. 
2. Add 1 cup of vanilla non-sweetened almond milk. Feel free to add a bit more or less depending on your desired consistency
3. Add 1 drop of either liquid stevia or sucralose
4. Add 1 teaspoon of almond extract
5. Add a pinch of salt
6. Add 100 grams of frozen bananas
7. Add 40-45g of Core ISO (I used chocolate decadence as it goes very well with banana flavor profiles, also works great with coffee flavors)
8. Add 15 grams or 3 tablespoons dark chocolate cocoa powder. This actually adds quite a bit of fiber to the recipe as each tablespoon contains 2 grams of fiber, so the cocoa powder alone gives us a full 6 grams of fiber in our recipe.
9. Add approximately 30 ice cubes or about 5 cups of ice. Again, you can add less or more depending on the consistency you're looking for with your smoothie.
10. Now blend your smoothie for approximately 5 minutes or until you reach your desired consistency. Serve in a large cup and enjoy!
Nutrition:
Serving size = 1 bowl
367calories, 44g Protein, 37g Carbohydrates, 6g Fat
*makes 1 serving*
Be sure to bookmark this page so you can find it in the future and subscribe to our newsletter so you don't miss any future recipes!
Recipe created by Katie Anne Church
Instagram: @katieanne100