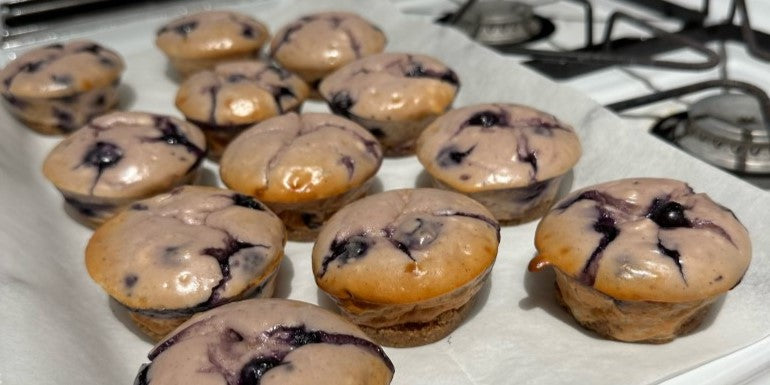 It's time for another Crush It Café recipe! Are you eating healthier or are you on a strict diet? If so, we bet you're probably missing cheesecake and muffins. Or, maybe you just want to eat them to your heart's content without the soul crushing guilt of breaking your coach's carefully crafted diet plan? Then this Blueberry Protein Cheesecake recipe is for you! 
To get cooking, continue reading from here for a detailed look including step-by-step instructions and a breakdown of the ingredient list.
Ingredients Crust:
3 sheets (45g) graham crackers, crushed
2 tablespoons (28g) light butter, melted
Ingredients Filling:
4 oz (112g) fat free cream cheese, softened
50g non-fat vanilla Greek yogurt
2 tablespoons of no calorie sweetener
1 egg white (approx.. 30g if using liquid egg whites) 
½ tsp vanilla extract
Dash of salt
1 scoop (33g) of PRO Blueberry Muffin 
¼ cup of fresh blueberries
Directions:
1.Preheat oven to 325 degrees F
2. In a food processor, blend the graham crackers until they are fine crumbs or place them in a Ziplock bag and crush with a rolling pin.
3. Melt butter in microwave on 30 second bursts at 50% power. Mix crumbs and butter until crumbly.
4. Lightly spray 4 muffin tins with non-stick spray. Measure out 18g of crumbs and press into the bottom of the muffin tins, using the bottom of a glass to press into tins. Continue until all 4 muffin tins have a graham cracker crust.
5. Place the tins into the refrigerator while you make the filling.
6. In a small mixing bowl, combine softened butter and Greek yogurt until smooth. Stir in no calorie sweetener. Add liquid ingredients – egg white and vanilla extract. Stir in salt and protein powder until no lumps remain. Fold in blueberries.
7. Spoon out 67g batter and place in each of the 4 muffin tins on top of the crust. Smooth out the tops.
8. Bake for 10-12 minutes until set and edges are lightly browned. Cool in pan and carefully use a knife to loosen the edges to release the cheesecakes. Cool on wire rack, then place in the refrigerator for up to 3 days.
Nutrition:
Serving size = 1 cheesecakes
153 calories, 16g Protein, 12g Carbohydrates, 4g Fat
*makes 4 sevices*
Be sure to bookmark this page so you can find it in the future and subscribe to our newsletter so you don't miss any future recipes!
Recipe created by Kathy Seitz
Instagram: @the_prepping_pa