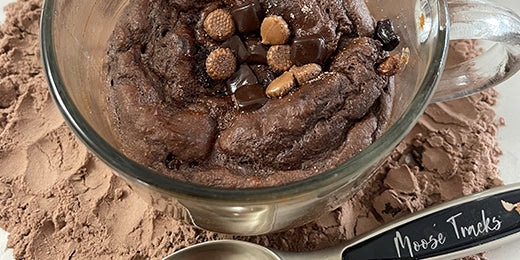 What's up Crush It Crew! 
We're excited to share with you a delightful treat that brings together the best of both worlds! Yes, you read that right – you can have your cake and PUDD'N all in one with our incredible creation: the Chocolate Moose Tracks PUDDN Mug Cake.
We've taken our beloved Chocolate Moose Tracks PUDDN, a protein-packed delicacy that already had our taste buds dancing, and transformed it into a mouthwatering mug cake! Picture this – a soft, moist cake infused with the delectable flavor of chocolate moose tracks, complete with mini peanut butter cups and fudge inclusions that'll surprise you with every heavenly bite.
Before we begin, if you are just looking for the recipe breakdown and instructions, please scroll down to the instructions and get in the kitchen! However, for those looking for a bit more detail before getting in the kitchen, please read on as we go over the justification and secrets behind this delicious Crush It Café recipe!
Now, before you start worrying about the macros, let me put your mind at ease. This delightful mug cake packs a powerful protein punch while keeping things balanced and delicious. In just one serving, you get a fantastic blend of 21 grams of carbohydrates, 12 grams of healthy fats, and a whopping 27 grams of muscle-building protein! It's like having a guilt-free indulgence that also supports your fitness goals – could it get any better than that?
Let me walk you through the simple yet divine recipe. All you need is 54 grams (that's one scoop) of Core Chocolate Moose Tracks PUDDN, 7 grams (or one tablespoon) of coconut flour, 46 grams of egg whites, 40 grams of cashew or almond milk, and a pinch of baking powder. Mix all these fabulous ingredients together in an oven-safe mug, which you'll have sprayed with non-stick cooking spray to ensure an easy release later on. The result? A thick, brownie-like consistency that's begging to be baked to perfection!
Once your mug cake masterpiece is ready, simply pop it into the oven at 350 degrees Fahrenheit for 20 minutes, and the magic will happen. The kitchen will fill with an aroma that'll have you eagerly waiting to take that first heavenly bite. And when you do, oh boy, you'll experience a burst of flavors that will delight your taste buds like never before!
So, my fellow fitness enthusiasts and dessert lovers, if you're looking for a way to satisfy your sweet tooth without compromising on your nutritional goals, this Chocolate Moose Tracks PUDDN Mug Cake is the answer. Trust me; you'll find yourself making it again and again.
Stay tuned for more scrumptious recipes and fitness tips, brought to you by Core Nutritionals and yours truly. Remember, with a bit of creativity and a whole lot of dedication, we can have the best of both worlds – fitness and fantastic flavors. Let's embark on this delicious journey together and make our fitness dreams a reality, one delightful bite at a time!
To get baking, continue reading from here for a detailed look including step-by-step instructions and a breakdown of the ingredient list.
Ingredients
54g (1 scoop) Core Chocolate Moose Tracks PUDDN
7g (1tbsp) coconut flour
46g egg whites
40g cashew or almond milk
1/2 tsp baking powder
Directions:
1. Mix all ingredients in an oven safe mug sprayed with non stick cooking spray. It should create a thick, brownie like consistency.
2. Bake at 350 for 20 minutes
3. Allow to cool then enjoy!
Nutrition:
27g Protein, 21g Carbohydrates, 12g Fat
*makes 1 servings*
Remember to stay tuned for our upcoming blog posts, where we'll delve into the science behind these bars, discuss the importance of balanced nutrition, and provide expert tips and tricks to optimize your fitness routine. Get ready to elevate your fitness game with our milk and cereal bars – the ultimate fusion of convenience, flavor, and nutrition!
About the Author: 
This recipe was created by Emily Interwicz, one of Core's sponsored athletes. You can follow Emily for exercise, nutrition and bodybuilding tips via her Instagram page @emilylauren_d

Emily became a Core Nutritionals Sponsored Athlete after 3 years of being an Ambassador and living the Crush It Lifestyle. She owns E.L. Fit - an online fitness and nutrition coaching business where she helps others on the path to living their best and healthiest lives. She also competes in both the NPC and NANBF as a natural bikini athlete