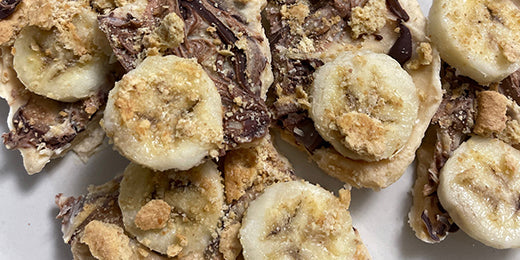 It's time for another Crush It Cafe recipe, this time it's a sweet and delicious snack that won't blow your macro budget!  
To get baking, continue reading from here for a detailed look including step-by-step instructions and a breakdown of the ingredient list.
Ingredients:
200g 0% fat Greek yogurt

30g of Core Frosted Vanilla Cupcake PRO

13g pb2

28g chocolate chips

1 sheet graham crackers

60g bananas
Directions:
1. Mix together the Greek yogurt, protein powder, pb2 and stevia to taste.
2. Spread evenly over a foil or parchment paper lined baking sheet.
3. Melt chocolate chips and swirl them onto the top of the yogurt mixture.
4. Top with bananas and graham cracker crumbs.
5. Freeze for at least 3 hours before breaking apart into chunks.
6. Keep in freezer and thaw for 1-2 minutes before eating.
7. Enjoy!
Nutrition:
130 calories, 14g Protein, 14g Carbohydrates, 3g Fat per serving
*Makes roughly 4 servings*
Remember to stay tuned for our upcoming blog posts, where we'll delve into the science behind these bars, discuss the importance of balanced nutrition, and provide expert tips and tricks to optimize your fitness routine. Get ready to elevate your fitness game with our milk and cereal bars – the ultimate fusion of convenience, flavor, and nutrition!
About the Author: 
This recipe was created by Emily Interwicz, one of Core's sponsored athletes. You can follow Emily for exercise, nutrition and bodybuilding tips via her Instagram page @emilylauren_d

Emily became a Core Nutritionals Sponsored Athlete after 3 years of being an Ambassador and living the Crush It Lifestyle. She owns E.L. Fit - an online fitness and nutrition coaching business where she helps others on the path to living their best and healthiest lives. She also competes in both the NPC and NANBF as a natural bikini athlete