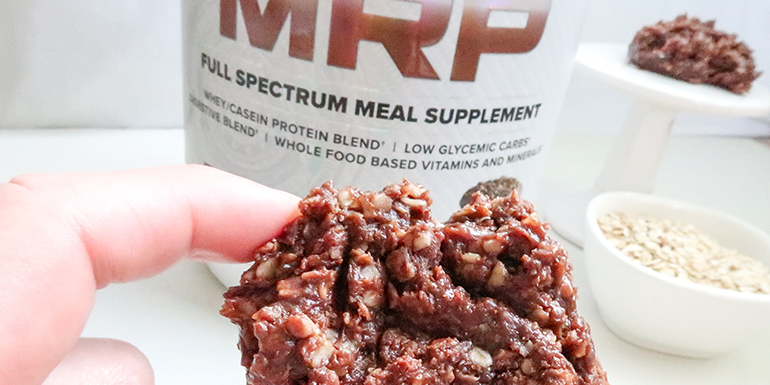 This is a healthy spin on the classic no bake drop cookie recipe. The original recipe calls for plenty of butter and sugar but our recipe uses ingredient swaps for a healthier version. One of our new MRP flavors is double chocolate oatmeal which melts perfectly into these sweet cookies. They are easy to make (no oven needed!) and even easier to eat when you need a delicious treat.
Ingredients:
¼ cup (60mL) sugar free maple syrup
¼ cup (4T or 66g) creamy peanut butter
1 T. (14g) coconut oil
2 T. unsweetened almond milk
1 tsp. vanilla extract
¼ tsp. sea salt
2 T. (12g) PB2 (powdered peanut butter)
2 T. (10g) cocoa powder
1 scoop (34.5g) Core Nutritionals MRP Double Chocolate Oatmeal
1 cup (80g) quick cooking oats
Directions:
Line a baking sheet with wax paper and set aside.
In a small saucepan over low-medium heat, melt peanut butter, maple syrup, coconut oil and almond milk. Stir until smooth. Turn off burner and whisk in vanilla extract, sea salt, PB2 and cocoa powder. Stir in protein powder and oats, mixing until combined. (If your mixture is too thick, add 1 T. additional of almond milk).
For six even sized cookies, measure out 57g of batter and drop onto wax paper. Press down slightly into cookie form. Let cool. Store remaining cookies in refrigerator.
Nutrition:
Serving size: 1 cookie (57g), 170 calories, 7.3g Protein, 16.6g Carbohydrates, 9.8g Fat
Recipe makes 6 cookies
Remember to stay tuned for our upcoming blog posts, where we'll delve into the science behind these bars, discuss the importance of balanced nutrition, and provide expert tips and tricks to optimize your fitness routine. Get ready to elevate your fitness game with our milk and cereal bars – the ultimate fusion of convenience, flavor, and nutrition!