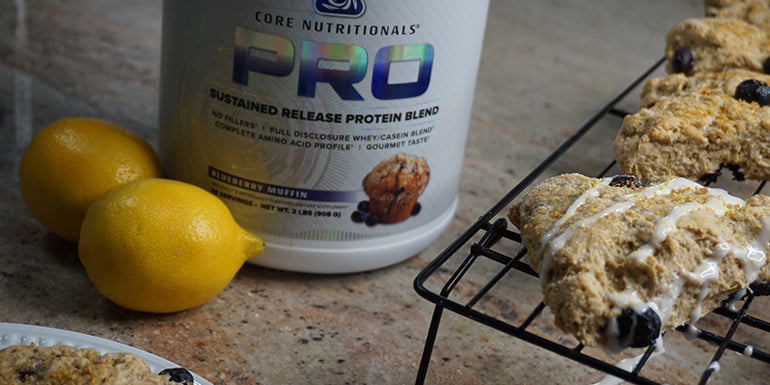 It's time for another Crush It Cafe recipe! Try out this super easy protein scone recipe. These scones are flaky and crumbly while soft and fluffy on the inside. Topped with a sweet lemon icing drizzle. Perfect for breakfast… or dessert.
For a quick review of the ingredients and directions, scroll down and watch the short video near the bottom of the page. Otherwise, continue reading from here for a more detailed look including step-by-step instructions and a breakdown of the ingredient list.
Ingredients: Scones
1 cup Kodiak cake mix

2 scoops Core Blueberry Muffin PRO

4 tbsp butter, cubed & chilled

1/4 cup of unsweetened milk
Ingredients: Icing 
10g of Frosted Vanilla Cupcake PRO


1 tbsp lemon juice
Directions:
1. Preheat oven to 400 degrees
2. In a large bowl, combine pancake mix, flour, protein powder, stevia, baking powder and lemon peel
3. Add in the cubed butter to your flour mixture. Using your hands or a pastry cutter, work the butter into the mixture until it resembles a course meal
4. Make a well in the middle of the bowl. Add in the milk, vanilla extract, egg and lemon juice.
5. Use a spoon to mix everything together (may want to switch to hands to finish) to combine ingredients until a dough comes together.
6. Gently fold in blueberries. Shape the dough into a ball.
7. On a lightly floured surface, flatten the ball into a round disc approximately 1-2 inches thick
8. Cut the dough into 8 wedges. Transfer the scones to a baking sheet
9. Brush the scones with an egg white wash mix *Optional: top with turbinado sugar and/or additional lemon peel*
10. Bake for 20-28 minutes, or until scones are slightly golden
11. While scones are baking, combine all icing ingredients in a small bowl. Set aside
12. Allow scones to cool for 5-10 minutes before drizzling with icing.
13. Enjoy!
Nutrition:
Serving size = 1 scone
200 calories, 12g Protein, 21g Carbohydrates, 7.5g Fat
*makes 8 serving*
Remember to stay tuned for our upcoming blog posts, where we'll delve into the science behind these bars, discuss the importance of balanced nutrition, and provide expert tips and tricks to optimize your fitness routine. Get ready to elevate your fitness game with our milk and cereal bars – the ultimate fusion of convenience, flavor, and nutrition!