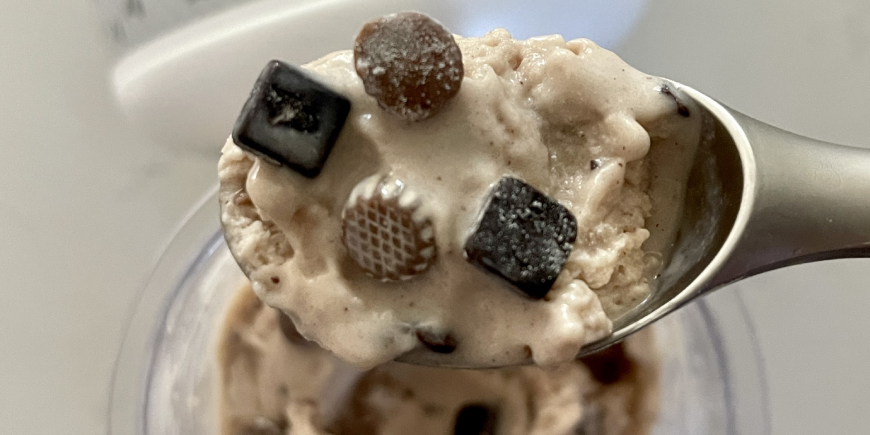 What's up Crush It Crew! 
Are you ready to take your dessert game to a whole new level? As a natural bodybuilder, bikini competitor, and a proud sponsored athlete for Core Nutritionals, I'm always on the lookout for delicious and macro-friendly treats to satisfy my sweet tooth without compromising my fitness goals. And trust me when I say, I've found an absolute game-changer!
Before we begin, if you are just looking for the recipe breakdown and instructions, please scroll down to the instructions and get in the kitchen! However, for those looking for a bit more detail before getting in the kitchen, please read on as we go over the justification and secrets behind this delicious Crush It Café recipe!
Introducing Moose Tracks PUDD'N Creami - the ultimate protein "ice cream" experience that will leave you drooling and ready for more. I know what you're thinking, "Can Moose Tracks PUDD'N get any better?" The answer is without a doubt YES!
If you've been contemplating purchasing a Ninja Creami, consider this your sign from the fitness gods! This creami creation is not your average protein ice cream- it's the REAL DEAL. Whether you enjoy it solo or paired with a waffle cone, your macro-friendly ice cream dreams are about to come true!

Let me break it down for you. Each PUDD'N Creami contains just 265 calories with a balanced macronutrient profile of 17g carbs, 13g fats, and a whopping 21g of protein! That's right, this dessert is not only incredibly delicious but also packed with the muscle-building fuel your body needs.

All you need to do is combine all the ingredients listed below in your Creami container and freeze for at least 12 hours. When you're ready to dig in, process first on the Lite Ice Cream mode then do a Re-Spin two times. You'll have yourself a perfect, velvety texture that rivals any high-calorie ice cream.

Voilà! Your Moose Tracks PUDD'N Creami is ready to be devoured. Get ready to experience protein ice cream like never before. The creamy goodness, combined with fudge pieces and mini peanut butter cups mix ins, provide a healthy and satisfying treat like none other.
Recipe Ingredients and Instructions: 
Ready to get your Creami on? Continue reading from here for a detailed look including step-by-step instructions and a breakdown of the ingredient list.
Ingredients: 
52g (1 scoop) Original Moose Tracks PUDD'N
240ml unsweetened cashew or almond milk
Stevia to taste
Dash of salt
Directions:
1. Combine ingredients in your Creami container and whisk together.
2. Freeze on a solid surface for at least 12 hours.
3. Blend in your Ninja Creami on the Lite Ice Cream setting for 1 spin.
4. Re-Spin twice or until the correct consistency is reached.
5. Enjoy your delicious Moose Tracks PUDD'N Creami! 
Nutrition:
Serving size = 1 bowl 
Macros: 265 calories, 21g Protein, 17g Carbohydrates and 13g Fat
*recipe makes 1 serving*
Remember to stay tuned for our upcoming blog posts, where we'll delve into more recipes, the importance of balanced nutrition, and provide expert tips and tricks to optimize your fitness routine.
About the Author: 
This recipe was created by Emily Interwicz, one of Core's sponsored athletes. You can follow Emily for exercise, nutrition and bodybuilding tips via her Instagram page @emilylauren_d

Emily became a Core Nutritionals Sponsored Athlete after 3 years of being an Ambassador and living the Crush It Lifestyle. She owns E.L. Fit - an online fitness and nutrition coaching business where she helps others on the path to living their best and healthiest lives. She also competes in both the NPC and NANBF as a natural bikini athlete.