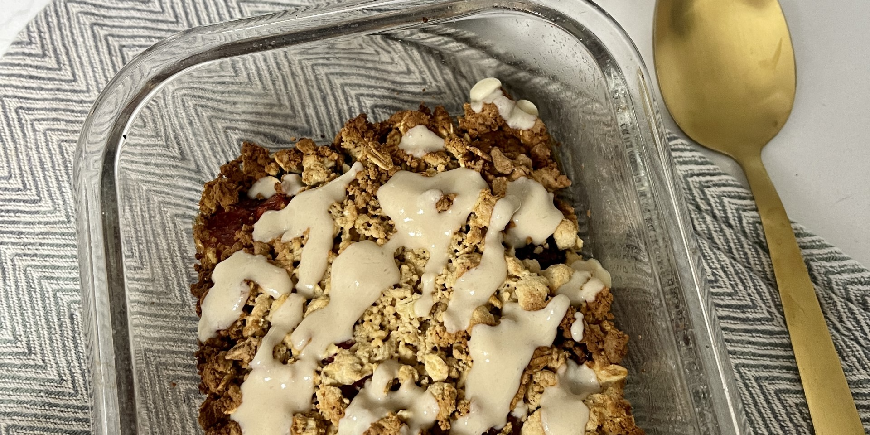 What's up Crush It Crew!

There's nothing quite like the taste of a refreshing fruit crumble during this summer heat. But don't worry, you won't have to compromise those hard-earned summer bods because this protein-packed dessert will satisfy your sweet tooth and keep you on track with your goals!

Introducing the VEGAN Berry Crumble, a mouthwatering treat that's as delicious as it is nourishing. It's also packed with 27g of protein, enough to keep you satisfied after a tough workout but or enjoyed as a treat any time of the day.
Before we begin, if you are just looking for the recipe breakdown and instructions, please scroll down to the instructions and get in the kitchen! However, for those looking for a bit more detail before getting in the kitchen, please read on as we go over the justification and secrets behind this delicious Crush It Café recipe!
Here's what you'll need:
Core Nutritionals Frosted Cinnamon Bun VEGAN protein powder: the perfect choice to for a plant based, delicious dessert
Oats: providing a hearty and wholesome base for the crumble.
Unsweetened almond milk: to give your crumble that perfect consistency.
Frozen mixed berries: a burst of summer flavor packed with fiber to keep both your taste buds and your stomach happy
Stevia: for that touch of natural sweetness without the added calories.
Salt: because you know we aren't afraid of sodium around here! Salt actually enhances the overall taste profile in baked goods.
This one is a breeze to make! Simply mix your VEGAN protein powder, oats, salt, and stevia in a bowl. Gradually add almond milk and mix until you achieve that crave-worthy crumble consistency.

Next, layer your frozen mixed berries in an oven-safe dish and bake them in the air fryer or oven at 400 degrees for 5 minutes. This step will bring out the juiciness and natural sweetness of the berries.

Now it's time for the star of the show – the protein crumble! Spread your prepared crumble mix on top of the warm berries. For an extra touch of perfection, spray the top with some zero calorie butter spray to achieve that golden crisp.

Air fry or bake for an additional 10 minutes until the crumble is perfectly golden brown.

And we're not done yet! To take this dessert to the next level, whip up a simple icing by mixing a few grams of VEGAN protein powder with water until you achieve an icing-like consistency. Drizzle this goodness on top of your baked masterpiece and get ready to dig in!

As a natural bodybuilder, bikini competitor, and a proud sponsored athlete for Core Nutritionals, I can't wait for you to experience the taste of this Vegan Berry Crumble. It's not just about fueling our bodies with the best nutrition; it's about actually enjoying the food we eat while on the path to a fitter, healthier, and more fulfilling lifestyle. It is possible I promise!
Recipe Ingredients and Instructions: 
To get baking, continue reading from here for a detailed look including step-by-step instructions and a breakdown of the ingredient list.
Ingredients: 
35g Frosted Cinnamon Bun VEGAN
15g

old fashioned 

oats 
30g

unsweetened 

almond milk
140g frozen mixed berries
Stevia to taste
Dash of salt
Directions:
1. Mix 30g of VEGAN protein powder, oats, salt and stevia in a small bowl. Slowly add almond milk and mix thoroughly until you have a crumble consistency.

2. Add berries to an oven safe dish and bake in the air fryer (or oven) on 400 degrees for 5 minutes.
3. Take out and add your protein crumble on top. Optional step: spray the top with zero calorie spray butter to make it extra golden brown.

4. Air fry or bake for an additional 10 minutes under it is golden brown and crispy on top. 

5. Mix 5g of VEGAN with water until you get an icing-like consistency. Drizzle on top
6. Enjoy your delicious VEGAN Berry Crumble
Nutrition:
Recipe makes 1 serving
Macros: 269 calories, 27g Protein, 30g Carbohydrates and 5g Fat
*Feel free to double or even triple the recipe for additional servings! This could even be made ahead of time to include in your weekly meal prep!
Remember to stay tuned to our newsletter and social media feeds for future Crush It Café recipes, nutrition tips and product launches.
About the Author: 
This recipe was created by Emily Interwicz, one of Core's sponsored athletes. You can follow Emily for exercise, nutrition and bodybuilding tips via her Instagram page @emilylauren_d

Emily became a Core Nutritionals Sponsored Athlete after 3 years of being an Ambassador and living the Crush It Lifestyle. She owns E.L. Fit - an online fitness and nutrition coaching business where she helps others on the path to living their best and healthiest lives. She also competes in both the NPC and NANBF as a natural bikini athlete.