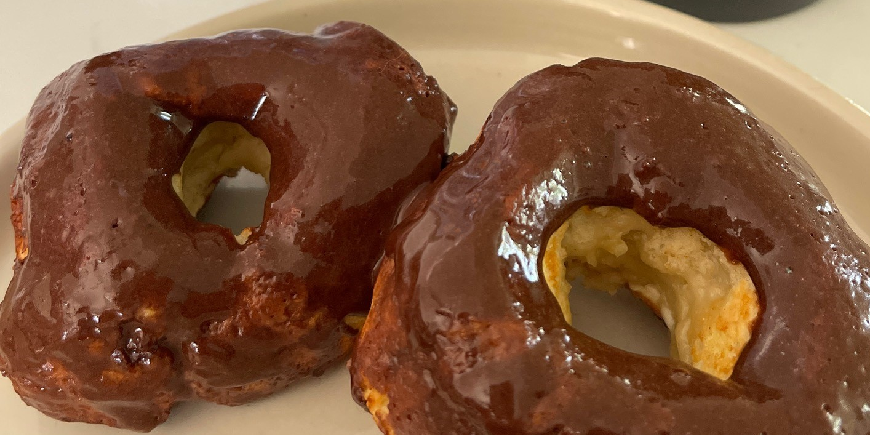 What's up Crush It Crew! 
Imagine sinking your teeth into a delicious and guilt-free Chocolate Frosted Donut. Sounds amazing right? But it gets even better! This donut is packed with all the right macros to keep you on track with your fitness journey. Dreams come true with our latest Crush It Café recipe, Chocolate Frosted Donuts, made using Core PRO for added protein.

We've worked our magic to create a recipe that cuts out almost all the fat that's in your typical donut, allowing you to enjoy not one, but two of these treats with zero guilt. And hey, who's to say you can't have three? After all, balance is the key to a sustainable and enjoyable fitness lifestyle.
Before we begin, if you are just looking for the recipe breakdown and instructions, please scroll down to the instructions and get in the kitchen! However, for those looking for a bit more detail before getting in the kitchen, please read on as we go over the justification and secrets behind this delicious Crush It Café recipe!
Let's break down the macronutrient profile of these dreamy donuts. Each one clocks in at 21 grams of carbohydrates, 2 grams of fat, and 15 grams of protein, totaling just 160 calories per donut. You read that right- a treat that fuels your muscles and keeps your stomach full and happy!

So, what's the secret behind these? It's all about that combo of Core Nutritionals Frosted Vanilla Cupcake PRO, Greek yogurt, all-purpose flour, mashed banana, and baking powder to achieve that perfect donut texture. They're incredibly easy to prepare and make for the perfect breakfast or post-workout snack. You'll get all the energy needed to go crush the day!

For those of you who have an air fryer, we recommend air frying these at 350°F for 5-8 minutes, flipping halfway through. And if you don't have one, no worries. These can also be baked to perfection in your oven.

You might be wondering about the frosting – because what's a donut without icing, right? We've got you covered with Core Nutritionals Death by Chocolate PRO. Simply mix a little bit of water with the chocolate PRO to get that perfect frosting texture. Dip your donuts in and you've got yourself a masterpiece that's as beautiful as it is delicious.

Whether you're a fitness enthusiast, a bikini competitor like myself, or simply someone with a passion for donuts, these Chocolate Frosted Donuts will undoubtedly become a recipe you'll have on repeat. Here's to all the donut gains!
Recipe Ingredients and Instructions: 
To get baking, continue reading from here for a detailed look including step-by-step instructions and a breakdown of the ingredient list.
Ingredients (Dough): 
20g Frosted Vanilla Cupcake PRO
45g 2% plain Greek yogurt
40g all-purpose flour
40g mashed banana
1/2 tsp baking powder
Ingredients (Frosting): 
8g Death by Chocolate PRO
Water (added to proper consistency)
Directions:
1. Mix all donut ingredients together in a small bowl. The batter should be very thick. Roll into two balls and poke a hole in the middle of each.
2. Air fry at 350 for 5-8 minutes, flipping halfway through. You can bake them if you don't have an air fryer.
3. Mix chocolate PRO with a small amount of water to create a frosting-like consistency.
4. Dip donuts in frosting.
5.. Enjoy your delicious donuts!
Nutrition:
Serving size = 1 donut 
Macros: 160 calories, 15g Protein, 21g Carbohydrates and 2g Fat

*recipe makes 2 servings*
Remember to stay tuned to our newsletter and social media feeds for future Crush It Café recipes, nutrition tips and product launches. 
About the Author: 
This recipe was created by Emily Interwicz, one of Core's sponsored athletes. You can follow Emily for exercise, nutrition and bodybuilding tips via her Instagram page @emilylauren_d

Emily became a Core Nutritionals Sponsored Athlete after 3 years of being an Ambassador and living the Crush It Lifestyle. She owns E.L. Fit - an online fitness and nutrition coaching business where she helps others on the path to living their best and healthiest lives. She also competes in both the NPC and NANBF as a natural bikini athlete.