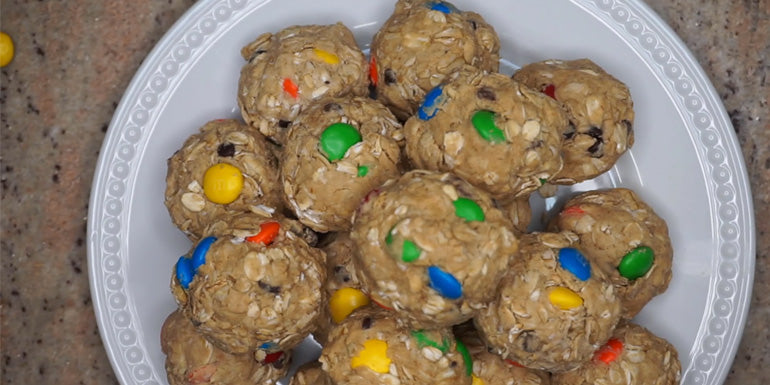 It's time for another Crush It Cafe recipe! Try out this super easy home-made protein ball recipe. These protein balls are a quick and easy recipe for whenever you need a quick snack. 
For a quick review of the ingredients and directions, scroll down and watch the short video near the bottom of the page. Otherwise, continue reading from here for a more detailed look including step-by-step instructions and a breakdown of the ingredient list.
Ingredients:
2 tsp honey
2 ½ cups oats
2 scoops of Core Vanilla Cake ISO
½ cup M&Ms
¼ cup miniature chocolate chips
½ cup creamy peanut butter
2 tsp honey
Directions:
1. In a large bowl, combine the oats, protein powder, M&Ms and chocolate chips. Mix until combined.
2. Add in peanut butter and honey. Using a wooden spoon or plastic spatula, combine mixture together.
3. Using your hands, shape into balls about 1" in size. Place on a plate or into a Tupperware type container.
4. Refrigerate for about 1 hour. 
5. Enjoy!
Additional notes: 
 **Might need to use quick oats for a more binding texture**
***Might need additional peanut butter or honey to be able to shape the mixture into balls. If needed, spray hands with cooking spray to help assemble the balls***
Nutrition:
Serving size = 1 ball
200 calories, 4g Protein, 9g Carbohydrates, 4g Fat
*makes 24 serving*
Remember to stay tuned for our upcoming blog posts, where we'll delve into the science behind these bars, discuss the importance of balanced nutrition, and provide expert tips and tricks to optimize your fitness routine. Get ready to elevate your fitness game with our milk and cereal bars – the ultimate fusion of convenience, flavor, and nutrition!