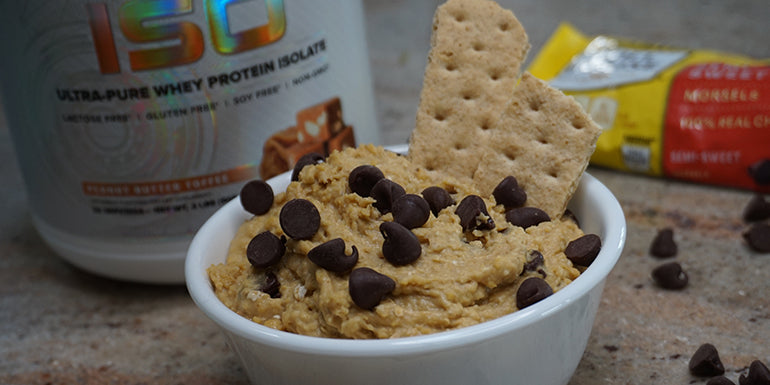 Welcome, fitness enthusiasts and foodies alike, it's time for yet another CRUSH IT! Café recipe blog! Today, we have a mouthwatering treat in store for you. Get ready to wow everyone at your next get-together with our protein-packed snack that not only nourishes your body with essential nutrients but also satisfies your cravings with its delectable cookie dough flavor. The best part? This healthy recipe is a breeze to make, requiring no more than 10 minutes of your time!
We understand the challenges of maintaining a balanced diet while pursuing your fitness goals. It can often feel like a battle between indulging your taste buds and fueling your body optimally. That's why we're here to revolutionize your snacking experience with this guilt-free delight that checks all the boxes: protein-rich, nutrient-dense, and incredibly delicious.
By transforming the classic cookie dough taste into a wholesome, protein-packed snack, we've crafted a recipe that not only supports muscle growth and recovery but also satisfies your sweet tooth. Say goodbye to those regretful, post-snack moments and embrace a treat that aligns perfectly with your fitness journey.
Prepare to be blown away as we guide you through the process of creating this incredible snack. With its simplicity and speed, this recipe is perfect for anyone seeking a quick and nutritious option to satiate their hunger or impress guests at a gathering. In just a few minutes, you'll have a delectable snack that rivals its unhealthy counterparts in taste while providing a powerful nutritional punch.
So, let's dive in and uncover the secrets to this protein-packed cookie dough snack that will leave you feeling satisfied, energized, and ready to conquer your fitness goals. Get ready to elevate your snacking game and indulge without guilt. Your taste buds and muscles will thank you!
For a quick review of the ingredients and directions, scroll down and watch the short video near the bottom of the page. Otherwise, continue reading from here for a more detailed look including step-by-step instructions and a breakdown of the ingredient list.
Ingredients: 
15oz (1 can) canned chickpeas, drained

1 tsp vanilla extract 30g oats
1 tbsp nut butter
1 tbsp sugar free maple syrup
1 scoop protein powder (vanilla or peanut butter work great)
A splash of milk
1/3 cup chocolate chips
Directions:
1. Drain and rinse canned chickpeas.
2. Add all ingredients (apart from the chocolate chips) to a food processor and blend until smooth. Add more milk if the dough is too dry or add more oats if it gets too moist.
3. Add the chocolate chips and stir to combine. Enjoy!
*If you prefer a smoother and creamier texture, peel the chickpeas*


Nutrition:
Serving size = 1/3 of a cup of dip
135 calories, 9g Protein, 17g Carbohydrates, 3.5g Fat
*makes approximately 6 servings*
Remember to stay tuned for our upcoming blog posts, where we'll delve into the science behind these bars, discuss the importance of balanced nutrition, and provide expert tips and tricks to optimize your fitness routine. Get ready to elevate your fitness game with our milk and cereal bars – the ultimate fusion of convenience, flavor, and nutrition!