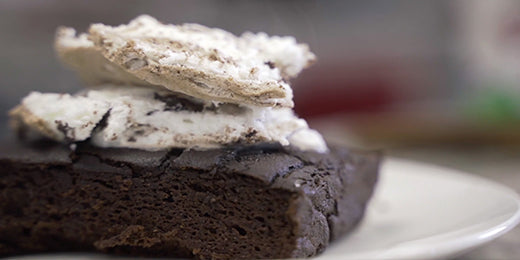 Believe it or not, you can make incredibly healthy chocolate brownies that not only have a wonderful texture, but also taste amazing. The secret? And bare with us here as this might sound a bit crazy, but this recipe calls for several ingredients that you'd never associate with a brownie recipe including a can of black beans and canned pumpkin. 
The purpose of the black beans is creating a close facsimile of the texture of a traditional brownie. Once they've gone through a high powered blender, they break down to provide the perfect medium for the rest of the ingredients while also adding some extra protein, vitamins and nutrients to the recipe. As for the pumpkin, it surprisingly adds a wonderful moist texture to a baking recipe without a lot of calories. If you don't have canned pumpkin, feel free to substitute with apple sauce. 
These additions make this a perfect sweet snack for anyone that wants a tasty treat like a brownie but are currently watching their diet and macros. So, all of you bodybuilders, bikini or fitness competitors, exercise and workout enthusiasts, crossfitters, marathon runners and the like, this recipe is for you! Now let's dig into it:
Here's a quick list of all the ingredients we'll be using over the course of this recipe (listed in no particular order). It's best if you make sure you have every ingredient before attempting to make these low fat, low sugar, and low calorie brownies.  
Wet Ingredients:
1 can black beans drained & rinsed
2 whole eggs
100 ml egg whites
60g fat free cream cheese
150g canned pumpkin
1/2 tsp pure vanilla extract
1 tsp liquid sucralose
1/2 tsp pure stevia
Dry Ingredients:
60g vanilla cake PRO (can sub with chocolate)
15g coconut flour
40g dark chocolate cocoa powder
1 tsp salt
1/2 tsp baking soda
1/2 tsp baking powder
25g dark chocolate chips
Now that we've gone over the ingredients, let's take a look at how we'll mix our ingredients together before baking. This will require you to have at least 2 medium to large size mixing bowls, as we'll be mixing our wet and dry ingredients together separately. We'll also need a blender or food processor to mix the wet and dry ingredients together before baking.  
Mixing the
 

Wet Ingredients:
Preheat oven to 350
Open black beans, rinse and drain, then empty into a large mixing bowl (while this may seem odd, the beans add a wonderful texture to the brownies while providing additional protein and nutrients)
Add 2 eggs into the bowl (binder and adds fat, as well as improves texture and taste)
Add 60g of

fat free 

cream cheese
Add 100ml of liquid egg whites
Add 150g of canned pumpkin (great way to add moisture texture without adding calories). This can be substituted with apple sauce if you don't have canned pumpkin. 
Add 2 teaspoons of vanilla extract. 

This can be substituted with another extract such as almond or coconut if you don't have vanilla extract.  

Add 1/2 teaspoon of liquid stevia and 1 teaspoon of liquid sucralose. The reason why we're using two artificial sweeteners is that Stevia can have a bitter aftertaste by itself while sucralose is very concentrated, so it's quite easy to overdo it and have an overly sweet product at the end. 
Mixing the Dry Ingredient:
In a different bowl, add 30g of coconut flour
Add 40g of dark chocolate cocoa powder (helps mask the unwanted flavors)
Add 60g or 2 servings of Frosted Vanilla Cupcake PRO protein powder (blends are important as they're the best for baking and cooking)
Mix in 1 teaspoon of sea salt
Creating the Batter:
Take your wet ingredients and place them into a food processor or blender, then add your dry ingredients. Aim for the general texture of a brownie batter and use the highest power setting available for a fine blend. Start with a 15 second blend, then scrap the ingredients of the side and blend for another 15-30 seconds. The texture will be thick, but this will even out while baking
Into the blender, add 1/2 teaspoon of baking soda and 1/2 teaspoon of baking powder. Quickly blend the ingredients.
Add 25g of dark chocolate chips into the blend and quickly pulse. These are added at the end so they aren't destroyed while blending the other ingredients.
Baking Directions:
Grab either a rectangular 8"x10" or square 9"x9" baking tin and spray the pan with Pam or oil to ensure the brownies don't stick to the pan when it's time to remove them. And, if you decide to use a wider/larger baking tin than what's listed above, make sure you reduce your cooking time to ensure the brownies aren't overcooked.
Add your brownie mixture into the baking tin.
Place into your oven pre-heated to 350 degrees.
Bake for 25-30 minutes.
Allow the brownies to cool for approximately 30 minutes before eating to avoid burning your tongue.
If you like to eat your brownies with an additional topping, feel free to top these delicious healthy brownies with a low calorie topping such as sugar free ice cream or low fat whipped topping.
For best results with a topping, however, use Core PUDD'N to create a healthy ice cream alternative by following the directions on the label and freezing until stiff. 
Enjoy!
Macros
Serving Size: 1 brownie

90 calories
6g Protein
12g Carbohydrates
2g Fat

Recipe makes 9 brownies
Be sure to bookmark this page so you can find it in the future and subscribe to our newsletter so you don't miss any future recipes!