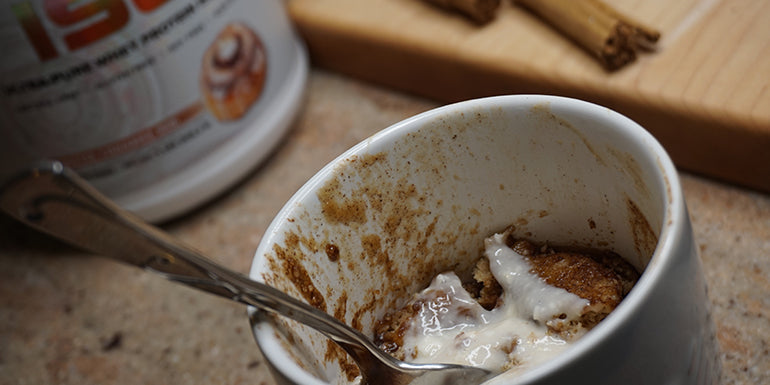 It's time for another Crush It Cafe recipe video! Just because a lot of sweet treats aren't great for your diet doesn't mean you need to completely stop eating them - especially when you can pack them full of protein!
That's why we've made this Cinnamon Roll Mug Cake recipe. It's the perfect snack option as it's quick to make, a healthier alternative to a traditional recipe yet it's still sweet and delicious - all while helping you get some extra protein into your diet.  
For a quick review of the ingredients and directions, scroll down and watch the short video near the bottom of the page. Otherwise, continue reading from here for a more detailed look including step-by-step instructions and a breakdown of the ingredient list.
Ingredients: Cake
1 scoop Frosted Cinnamon Bun ISO

1 tbsp unsweetened applesauce

1/4 cup of unsweetened milk
Ingredients: Filling 
5g melted butter

1 

tsp cinnamon

1 tbsp stevia or other sweetener

A splash of unsweetened milk
Ingredients: Icing 
10g Frosted Vanilla Cupcake PRO

1 tsp confectioners sugar




1/2 - 1 tsp unsweetened almond milk
Directions:
1.

In a microwave safe mug or bowl, mix together all mug cake ingredients until a thick batter is formed.




2.

In a small bowl, combine all filling ingredients.




3. Pour half of the mug cake mix into another container, put aside. Use a spoon or the tip of a knife to swirl half of the cinnamon filling into the top of the batter.


4.

Pour the remaining mug cake mixture back into the same mug/bowl. Repeat the swirl with the remaining filling mixture.

5. Microwave in 15-30 second increments, or until just cooked in the center.

6. Top with icing and enjoy!
Nutrition:
Serving size = 1 mug cake
440 calories, 9g Protein, 44g Carbohydrates, 46g Fat
*makes approximately 1 serving*
Remember to stay tuned for our upcoming blog posts, where we'll delve into the science behind these bars, discuss the importance of balanced nutrition, and provide expert tips and tricks to optimize your fitness routine. Get ready to elevate your fitness game with our milk and cereal bars – the ultimate fusion of convenience, flavor, and nutrition!