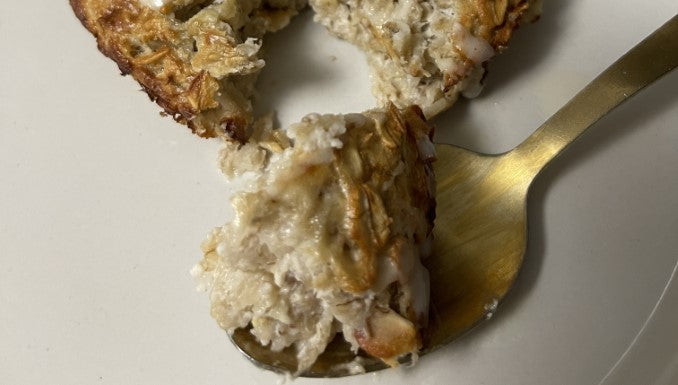 It's time for another Crush It Cafe recipe! If you found your way to this recipe, you probably love your oats. So do I! But some times they can get a bit dull. That's why I created this recipe to solve the problems associated with eating oats on the daily. 
To get baking, continue reading from here for a detailed look including step-by-step instructions and a breakdown of the ingredient list.
Ingredients:
50g oats
10g protein powder (PRO Frosted Vanilla Cupcake)
40g banana
120ml (1/2c) cashew or almond milk
1/2 tsp baking powder
Cinnamon + Stevia to taste
Directions:
1. Spray dish with nonstick spray
2. Using a spoon, mash the banana then combine with all other ingredients.
3. Let sit for about 10 minutes before baking so oats soften some.
4. Preheat oven to 375 F and bake for 45mins.

5. Make the protein icing by mixing 10g of Core PRO with water. Slowly add water and mix to create an icing like consistency

45c/6f/22p
Nutrition:
Serving size = 1 bowl
136 calories, 22g Protein, 45g Carbohydrates, 6g Fat
*makes 1 serving*
Be sure to bookmark this page so you can find it in the future and subscribe to our newsletter so you don't miss any future recipes!
Recipe created by Emily Interwicz
Instagram: @emilylauren_d
Online Coaching Business, E.L. Fit