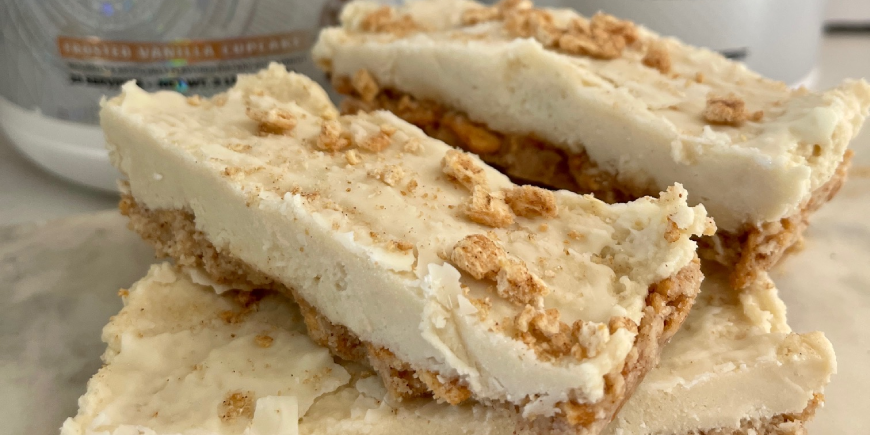 It's time for another Crush It Café recipe!
Welcome, fitness enthusiasts and health-conscious readers, to another exciting edition of our Crush It Café blog! Today, we have a game-changing solution for all those busy mornings and hectic workout schedules. Imagine a breakfast or post-workout snack that combines the goodness of milk and cereal into a convenient, portable form. Well, your wishes have been answered with our incredible creation: our Core Milk and Cereal Bars!
Before we begin, if you are only looking for the recipe and instructions, please scroll down to the instructions and get in the kitchen! However, for those looking for a bit more detail before getting in the kitchen, please read on as we go over the justification and secrets behind this delicious Crush It Café recipe!
We understand that life can sometimes get in the way of maintaining a healthy and balanced diet. We're always in a rush, whether it's to get to work or get some reps in at the gym. The result? We make compromises, oftentimes to one of the most impactful areas of fitness: our diet and nutrition. That's exactly where easy-to-make and store recipes like these milk and cereal bars shine as  a delicious and nutritious solution for your on-the-go needs.
The difference between these bars and something pre-packaged is that there are no average snack. They've been carefully crafted to be a powerhouse of protein, with added whey and collagen protein sources. Why did we add both whey isolate and collagen protein sources? Let us tell you below! 
A derivative of cow's milk, whey protein isolate is widely known for its high bioavailability, nutritional value, and fast absorption rate. As such, it provides your muscles with a readily available source of amino acids, which supports both recovery and growth after periods of intense exercise. By including Core PRO in this recipe, we're ensuring you'll have all the essential building blocks necessary to fuel your body while you're on the go and looking for a delicious snack.  
But what about the added collagen? That's not typically found in fitness food, is it? Those are fair points, however, collagen is one of the most abundant proteins found within our bodies and plays a critical role in the health of our hair, skin, nails and joints. So, by including collagen within these cereal bars, you're gaining addition support for your muscles as well as your joints, skin, hair and nails. 
Whatever has you on the go and in a rush, whether it's work, family functions, other hobbies such as hiking or mountain biking, our milk and cereal protein bars are the perfect option for a grab-and-go snack. Stop sacrificing taste and nutrition in the name of convenience and expediency - it doesn't have to be an either or proposition. These delicious protein bars provide the best of both worlds without sacrificing on time or taste, all while giving you a satisfying breakfast snack and the energy you need to go about your day. 
So grab your favorite apron, your trust handmixer, and get ready to whip up some of the most delicious cereal bars you've ever had the pleasure to taste.
Recipe Ingredients and Instructions: 
To get baking, continue reading from here for a detailed look including step-by-step instructions and a breakdown of the ingredient list.
Ingredients: Cereal Layer 
40g Cinnamon Toast Crunch or favorite cereal (crushed) 
21g coconut flour
11g Unflavored Core Collagen 
15g Frosted Vanilla Cupcake Core PRO
16g almond butter 
30ml unsweetened almond milk
Ingredients: Milk Layer 
60g Frosted Vanilla Cupcake PRO 
56g non fat Greek yogurt
14g coconut flour
Ingredients:
 White Chocolate 

Layer 
14g white chocolate chips
2g coconut oil
Directions:
1. Mix together cereal layer ingredients. Slowly add more milk if needed to create a dough like texture. Press mixture into a 5"x7" dish lined with parchment paper for easy cleanup.
2. Mix together milk layer ingredients until you get another dough like texture. Add additional milk as needed. Evenly spread over cereal layer.
3. Melt white chocolate chips and coconut oil in microwave. Evenly spread over milk layer.
4. Top with some additional crushed cereal and freeze for at least 20 minutes until they harden.  
5. Cut into 4 bars and enjoy!
Nutrition:
Serving size = 1 cereal bar 
233 calories, 22g Protein, 18g Carbohydrates, 7g Fat
*recipe makes 4 servings*
Remember to stay tuned for our upcoming blog posts, where we'll delve into the science behind these bars, discuss the importance of balanced nutrition, and provide expert tips and tricks to optimize your fitness routine. Get ready to elevate your fitness game with our milk and cereal bars – the ultimate fusion of convenience, flavor, and nutrition!