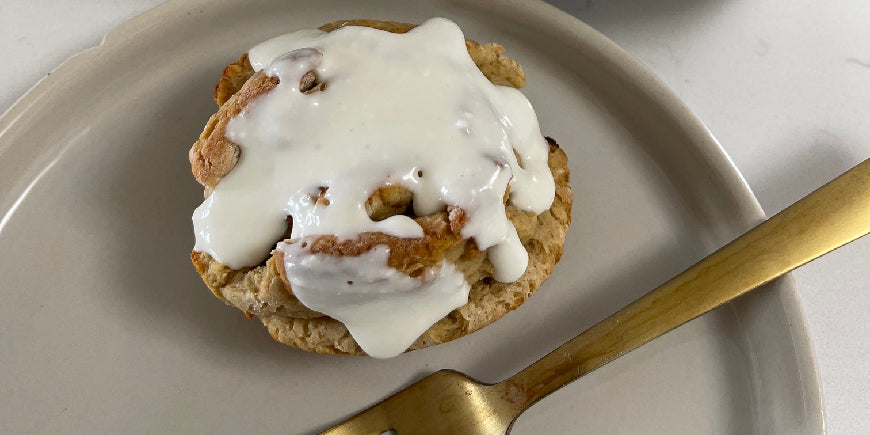 Greetings, health-conscious individuals and fitness enthusiasts! I'm thrilled to connect with you as a passionate natural bodybuilder and proud sponsored athlete for Core Nutritionals. Today, I have a truly exceptional treat for you—a recipe that combines the irresistible flavors of Peanut Butter, Oatmeal Cookie, and Cinnamon Rolls into one heavenly creation. Get ready to embark on a culinary journey that not only tantalizes your taste buds but also supports your fitness goals and nourishes your body from the inside out.
Before we begin, if you are only looking for the recipe and instructions, please scroll down to the instructions and get in the kitchen! However, for those looking for a bit more detail before getting in the kitchen, please read on as we go over the justification and secrets behind this delicious Crush It Café recipe!
Imagine the aroma of freshly baked cinnamon rolls wafting through your kitchen, the anticipation of sinking your teeth into a soft, doughy roll filled with delightful flavors. Now, picture a healthier, more nutritious version of this beloved classic, crafted with wholesome ingredients and fortified with Core Nutritionals' Peanut Butter Oatmeal Cookie MRP (Meal Replacement Powder). With this recipe, you can indulge in the delightful pleasure of cinnamon rolls without compromising your commitment to a fit and balanced lifestyle.
These rolls are the perfect combination of sweet, nutty, and cinnamon-y goodness, while also providing your body with the protein and nutrients it needs to stay strong and energized. They're made with wholesome ingredients like Greek yogurt, applesauce, all-purpose flour, and Peanut Butter Oatmeal Cookie MRP, and are sweetened with Stevia to keep the amount of sugar and carbohydrates down. And with each roll packing in over 21 grams of protein, they're a guilt-free indulgence that will satisfy your cravings and keep you on track with your fitness goals.
Let's delve into the ingredients and step-by-step instructions, ensuring you have all the tools to create these Peanut Butter Oatmeal Cookie Cinnamon Rolls in the comfort of your own kitchen.
So grab your apron and get ready to whip up some of the most delicious and nutritious cinnamon rolls you've ever tasted. Your taste buds (and your muscles) will thank you!
Recipe Ingredients and Instructions: 
To get baking, continue reading from here for a detailed look including step-by-step instructions and a breakdown of the ingredient list.
Ingredients
30g Peanut Butter Oatmeal Cookie MRP
15g all purpose flour
60g 2% Greek yogurt
15g applesauce
20g whipped cream cheese
1/2 tsp cinnamon
1/2 tsp baking powder
1/4 tsp salt
Stevia to taste
Directions:
Start by combining your dry ingredients—the Core MRP, all-purpose flour, baking powder, and salt—in a mixing bowl. Thoroughly blend them together, ensuring even distribution.

Gradually add the Greek yogurt to the dry mixture while stirring continuously. Keep mixing until the ingredients combine, forming a dough-like consistency that's pliable and easy to work with.

Shape the dough into a large ball, using your hands to bring it together.

Sprinkle a dusting of additional flour onto your countertop or work surface. This prevents the dough from sticking as you roll it out. Gently flatten and roll the dough into a large rectangle, ensuring it maintains a uniform thickness.

Meanwhile, preheat your oven to 350 degrees Fahrenheit (175 degrees Celsius). This allows it to reach the optimal temperature for baking these delectable cinnamon rolls.

Starting from one end of the rectangular dough, carefully roll it up onto itself, creating a tight and compact cinnamon roll log. The more precise and even the rolling, the better the swirls will be in your final product.

Place the cinnamon roll log into a ramekin or baking dish that has been lightly sprayed with non-stick cooking spray. The snug fit of the log will help retain its shape during baking. Be sure to position the log with the open end facing upward to showcase the beautiful cinnamon swirls.

Slide the baking dish into the preheated oven and let it bake for approximately 20 minutes. The aroma that fills your kitchen will make your taste buds dance with anticipation.

While the cinnamon roll bakes to golden perfection, let's prepare the delectable toppings. Begin by mixing together the applesauce, cinnamon, and stevia, creating a flavorful spread that perfectly complements the warm, aromatic cinnamon rolls.

In a separate bowl, combine the whipped cream cheese with stevia, gradually adding the sweetener of your choice until it reaches your preferred level of sweetness
Nutrition:
Serving size = 1 cinnamon roll
268 calories, 21g Protein, 28g Carbohydrates, 8g Fat
*makes 8 servings*
Remember to stay tuned for our upcoming blog posts, where we'll delve into the science behind these bars, discuss the importance of balanced nutrition, and provide expert tips and tricks to optimize your fitness routine. Get ready to elevate your fitness game with our milk and cereal bars – the ultimate fusion of convenience, flavor, and nutrition!
About the Author: 
This recipe was created by Emily Interwicz, one of Core's sponsored athletes. You can follow Emily for exercise, nutrition and bodybuilding tips via her Instagram page @emilylauren_d

Emily became a Core Nutritionals Sponsored Athlete after 3 years of being an Ambassador and living the Crush It Lifestyle. She owns E.L. Fit - an online fitness and nutrition coaching business where she helps others on the path to living their best and healthiest lives. She also competes in both the NPC and NANBF as a natural bikini athlete