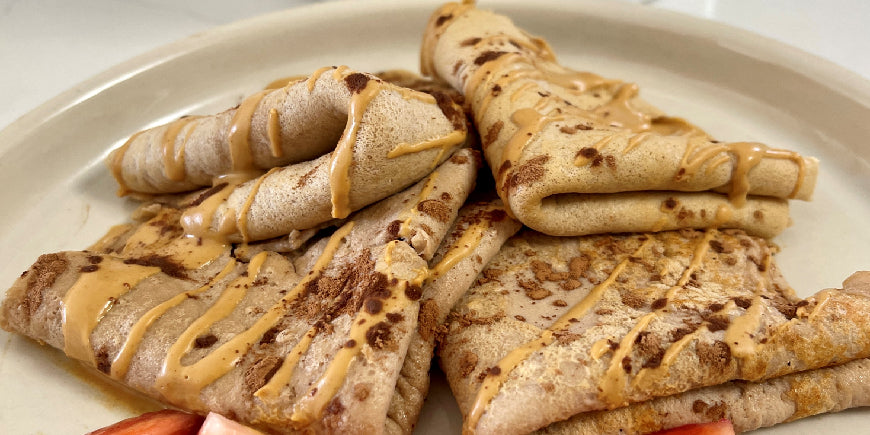 It's time for another Crush It Café recipe! 
Are you tired of the same old bland and boring protein snacks? Well, today I've got something that's going to knock your socks off - high protein chocolate mocha crepes made with Core Nutritionals products!
These delicious crepes are not only a treat for your taste buds, but they're also loaded with protein to help you build and maintain lean muscle mass. Whether you're looking for a post-workout snack or a guilt-free dessert, these crepes are sure to satisfy your cravings while keeping you on track with your fitness goals. So, grab a pen and paper, because you're going to want to write down this recipe!
To get started with the recipe, continue reading from here for a detailed look including step-by-step instructions and a breakdown of the ingredient list.
Ingredients
30g Core Chocolate Mocha PRO
60g egg whites
40g cashew/almond milk
Directions:
1. Mix PRO and egg whites.
2. Add your milk of choice & whisk until you create a thin batter with no clumps.
3. Pour 1/4 of the batter into a pan with nonstick spray over medium heat.
4. Swirl pan to create a very thin circle.
5. Cook 1-2 minutes, carefully flip and cook other side for an additional minute.
6. Fold into fourths and add toppings of your choice!
7. Finish and enjoy!
Nutrition:
130 calories, 28g Protein, 2g Carbohydrates, 2g Fat
*Macros do not include toppings*
Makes 4 crepes
Be sure to bookmark this page so you can find it in the future and subscribe to our newsletter so you don't miss any future recipes!
Recipe created by Emily Interwicz.

Instagram: @emilylauren_d

Emily became a Core Nutritionals Sponsored Athlete after 3 years of being an Ambassador and living the Crush It Lifestyle. She owns E.L. Fit - an online fitness and nutrition coaching business where she helps others on the path to living their best and healthiest lives. She also competes in both the NPC and NANBF as a natural bikini athlete.