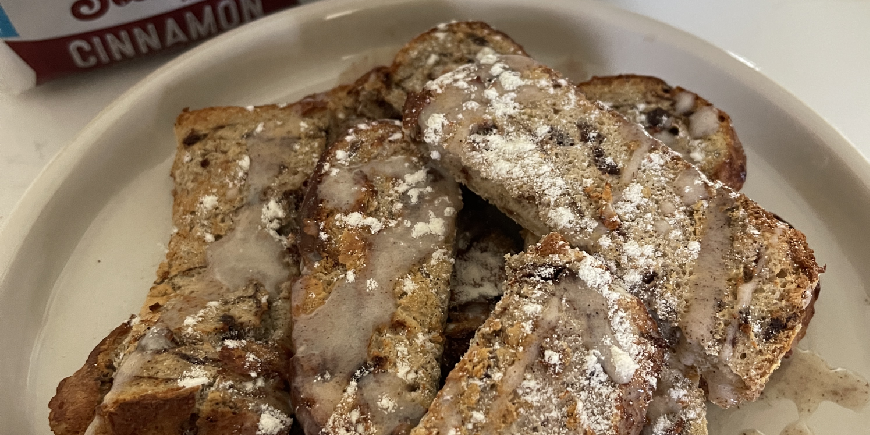 Hey there, Core Nutritionals enthusiasts, fitness gurus, and breakfast lovers! I'm thrilled to share an incredible recipe that will revolutionize your mornings and satisfy your cravings at any time of the day. As a natural bodybuilder and a sponsored athlete for Core Nutritionals, I am always on the lookout for delicious, protein-packed meals that fuel my workouts and support my fitness goals.

Before we begin, if you are only looking for the recipe and instructions, please scroll down to the instructions and get in the kitchen! However, for those looking for a bit more detail before getting in the kitchen, please read on as we go over the justification and secrets behind this delicious Crush It Café recipe!

Today, I present to you a mouthwatering creation that will make you want breakfast for every meal: Air Fried French Toast Sticks. Now, I know what you're thinking – French Toast without eggs? Don't worry, you won't even miss them once you taste this incredible dish. It's loaded with even more protein and flavor than your traditional recipe.

Let's break down the numbers. Each serving of these Air Fried French Toast Sticks contains approximately 56g of carbohydrates, 9g of healthy fats, and a whopping 31g of protein, all adding up to around 430 calories. These macros make it a perfect choice for anyone looking to maintain a balanced diet while enjoying a scrumptious and muscle-building meal.

So, what's the secret behind this fantastic recipe? It starts with three slices of cinnamon bread, which provide a warm and comforting base. To take the protein content to the next level, we'll be incorporating 33g (1 scoop) of Core Nutritionals' Frosted Vanilla Cupcake PRO protein powder. Trust me, this protein powder is not only delicious but also delivers the quality and results you expect from Core Nutritionals.

To give our French toast sticks an extra kick, we'll add a dash of cinnamon and salt, enhancing the flavors and creating a well-rounded taste. To bring it all together, we'll create a thin batter by mixing the protein powder, cinnamon, and salt with just enough water. Dip the bread into the batter, ensuring it's fully coated on both sides, allowing it to soak up as much flavor as possible. Don't worry if you have some batter left over – it can be saved for later use.

Now, here comes the exciting part. Instead of using traditional frying methods, we're going to air fry our French toast sticks. Set your air fryer to 390 degrees Fahrenheit and cook them for 5-10 minutes, flipping them halfway through to achieve that perfect golden brown exterior. Once cooked, slice the bread into thirds, creating easy-to-eat and visually appealing French toast sticks.

But we're not done just yet! To add a final touch of decadence, drizzle the remaining protein batter on top of the French toast sticks as icing, and for an extra touch of aesthetics, dust them with a bit of dry protein powder. This step not only enhances the presentation but also adds a delightful burst of flavor.

Now that you know the secrets to this protein-packed breakfast sensation, it's time to put your culinary skills to the test. And don't worry if you don't have an air fryer – this recipe can be easily adapted to be cooked in a pan on the stove.

Stay tuned for more fitness-friendly recipes, workout tips, and lifestyle inspiration as I continue to share my journey as a natural bodybuilder and Core Nutritionals ambassador. Together, we can achieve our fitness goals while indulging in delicious meals like these Air Fried French Toast Sticks. Let's embark on this flavorful adventure and make every meal count!
Recipe Ingredients and Instructions: 
To get baking, continue reading from here for a detailed look including step-by-step instructions and a breakdown of the ingredient list.
Ingredients: 
3 slices cinnamon bread
33g (1 scoop) Frosted Vanilla Cupcake PRO
Dash of cinnamon and salt
Directions:
1. Mix protein, cinnamon and salt in a large bowl with just enough water to make a thin batter.
2. Dip bread in batter, making sure to coat both sides. Allow the bread to fully soak in as much batter as it can and save the remaining batter for later.
3. Air fry at 390° F for 5-10 minutes, flipping halfway through.
4. Slice bread into thirds.
5. Drizzle the remaining protein batter on top as icing and dust with a bit of dry protein powder for added aesthetics. 
*Can be cooked in a pan on the stove if you don't have an air fryer*
Nutrition:
Serving size = 9 slices
430 calories, 31g Protein, 56g Carbohydrates, 9g Fat

*recipe makes 1 servings*
*Macros can be customized based on the number of slices of bread used*
Remember to stay tuned to our newsletter and social media feeds for future Crush It Café recipes, nutrition tips and product launches.
About the Author: 
This recipe was created by Emily Interwicz, one of Core's sponsored athletes. You can follow Emily for exercise, nutrition and bodybuilding tips via her Instagram page @emilylauren_d

Emily became a Core Nutritionals Sponsored Athlete after 3 years of being an Ambassador and living the Crush It Lifestyle. She owns E.L. Fit - an online fitness and nutrition coaching business where she helps others on the path to living their best and healthiest lives. She also competes in both the NPC and NANBF as a natural bikini athlete.