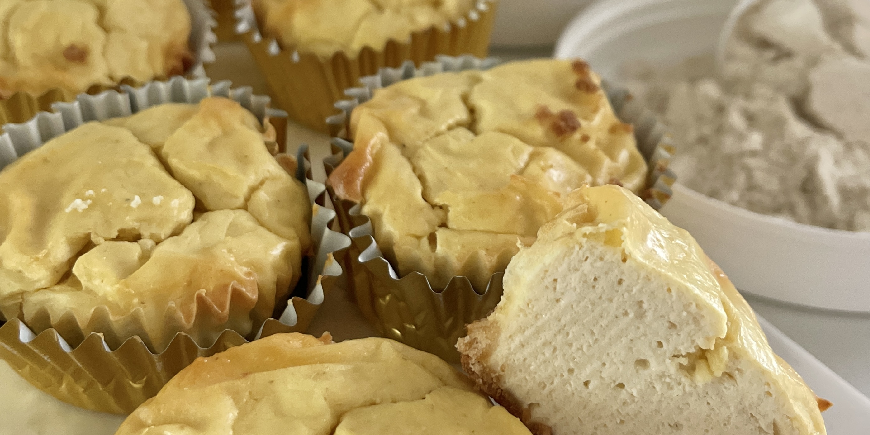 Welcome, fitness enthusiasts and health-conscious readers, to another exciting edition of our Crush It Café blog! Today, we're excited to introduce you to a revolutionary creation that combines the irresistible flavors of carrot cake and cheesecake into a single, delectable treat. The best part? It's not just delicious; it's also a guilt-free, macro-friendly, and protein-packed indulgence that you can enjoy on the go!
Before we begin, if you are only looking for the recipe and instructions, please scroll down to the instructions and get in the kitchen! However, for those looking for a bit more detail before getting in the kitchen, please read on as we go over the justification and secrets behind this delicious Crush It Café recipe!
At the heart of this extraordinary fusion lies one of our all-time favorite products, Core MRP from Core Nutritionals. This remarkable supplement not only provides the essential nutrients your body craves but also serves as the secret ingredient behind our innovative carrot cake cheesecake protein treat. Say goodbye to compromising your fitness goals for the sake of satisfying your sweet tooth, as we embark on a tantalizing journey of flavor and fitness.
So, whether you're a dedicated bodybuilder seeking to optimize your gains or a health-conscious individual searching for a healthy yet scrumptious alternative to traditional desserts, you've come to the right place. Join us as we delve into the art of combining nutrition, taste, and convenience in a single, portable masterpiece. Prepare to embark on a culinary adventure that will leave your taste buds tingling and your muscles fueled.
So, grab your apron, your Core MRP, and let's embark on this culinary adventure together. Get ready to redefine what it means to indulge responsibly, as we unlock the secrets to a dessert that's as pleasing to your taste buds as it is to your fitness journey. 
Recipe Ingredients and Instructions: 
To get baking, continue reading from here for a detailed look including step-by-step instructions and a breakdown of the ingredient list.
Ingredients: 
30g Carrot Cake MRP
156g 0% Fage Greek Yogurt
168g 1/3 less fat Philadelphia cream cheese
1 egg
1/4 tsp salt
Stevia to taste
30g crumbled graham crackers
Directions:
1. Mix together all ingredients except for graham crackers.
2. Divide crumbled graham crackers evenly to the bottom of 6 cupcake/muffin liners placed in a baking tin.
3. Divide cheesecake evenly into liners.
4. Bake at 325 °F for 30 minutes. Lower oven to 200 + bake for an additional 45 minutes.
5. Best eaten after cooled in refrigerator overnight.
Nutrition:
Serving size = 1 cupcake
137 calories, 8g Protein, 7g Carbohydrates, 8g Fat
*recipe makes 6 servings*
Remember to stay tuned to our newsletter and social media feeds for future Crush It Café recipes, nutrition tips and product launches.
About the Author: 
This recipe was created by Emily Interwicz, one of Core's sponsored athletes. You can follow Emily for exercise, nutrition and bodybuilding tips via her Instagram page @emilylauren_d

Emily became a Core Nutritionals Sponsored Athlete after 3 years of being an Ambassador and living the Crush It Lifestyle. She owns E.L. Fit - an online fitness and nutrition coaching business where she helps others on the path to living their best and healthiest lives. She also competes in both the NPC and NANBF as a natural bikini athlete