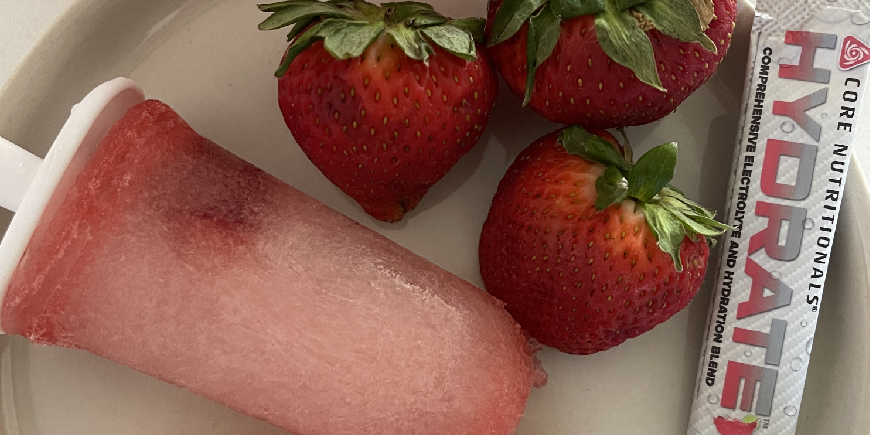 Greetings, fitness enthusiasts and fellow summer lovers! As the warm breeze gently caresses our skin and the sun shines brightly above, it's time to dive into the perfect summer treat that will keep your hydration game on point. Introducing the mouthwatering Strawberry Margarita Hydrate Pops, crafted exclusively for those who seek the ultimate balance of refreshment and fitness using one of the best products hydration and intra-workout products out there - Core HYRDRATE. 
Before we begin, if you are only looking for the recipe and instructions, please scroll down to the instructions and get in the kitchen! However, for those looking for a bit more detail before getting in the kitchen, please read on as we go over the justification and secrets behind this delicious Crush It Café recipe!
As a natural bodybuilder and proud sponsored athlete with Core Nutritionals, I am thrilled to share this delightful recipe with you. Not only will these popsicles tantalize your taste buds, but they will also replenish your body's essential electrolytes to keep you feeling energized and revitalized during those scorching summer days.
To create these frozen delights, you'll need just a handful of ingredients. First, grab two packets of Core Nutritionals' Strawberry Margarita HYDRATE (or another flavor of your choice), a premium hydration formula designed to optimize your body's fluid balance and support your active lifestyle. This delicious mix is carefully crafted to provide a harmonious blend of electrolytes, vitamins, and minerals, ensuring you stay hydrated and perform at your best.
Next, combine the two HYDRATE packets with 16 ounces of water, stirring until the mixture is thoroughly dissolved. This step is crucial to infuse your popsicles with the invigorating flavors of strawberry and margarita.
But wait, there's more! Enhance the sensory experience by adding your desired amount of fresh or frozen strawberries to the popsicle molds. This juicy addition will not only contribute to the lusciousness of each bite but also provide you with essential nutrients and antioxidants.
Once your molds are beautifully adorned with the vibrant red strawberries, carefully pour the Hydrate mixture into each mold, ensuring it fills every nook and cranny. Remember, these popsicles are your ticket to hydration, so don't hold back!
Now, it's time to let the magic happen. Place your filled molds in the freezer and patiently wait for at least eight hours. Trust me, the anticipation will be well worth it. Once the freezing process is complete, remove the molds from the freezer and prepare to indulge in pure summer bliss.
Whether you're lounging by the pool, embarking on an outdoor adventure, or simply craving a cool and invigorating treat, these Strawberry Margarita Hydrate Pops are the perfect companion to beat the summer heat while keeping your hydration levels in check.
Stay tuned as I, your friendly natural bodybuilder and Core Nutritionals ambassador, continue to bring you more exclusive recipes, fitness tips, and the latest updates from the world of supplements. Remember, fitness and flavor can coexist, and with Core Nutritionals by your side, you'll achieve your goals while relishing every step of the journey.
Let the Strawberry Margarita Hydrate Popsicles be your ultimate summertime delight, unlocking the perfect balance of taste, hydration, and fitness. Cheers to a sizzling summer ahead!
Recipe Ingredients and Instructions: 
To get baking, continue reading from here for a detailed look including step-by-step instructions and a breakdown of the ingredient list.
Ingredients: 
2 packets of Strawberry Margarita HYDRATE 
16oz water
Strawberries, fresh or frozen
**other HYDRATE and fruit combinations in the same ratio work as well, such as lemons and Lemon Lime, raspberries and Blue Ice, etc.**
Directions:
1. Mix 2 Hydrate packs into 16oz water.
2. Add desired amount of strawberries to popsicle molds.
3. Fill molds with water.
4. Freeze at least 8 hours.
5. Enjoy! 
Nutrition:
Serving size = 1 popsicle 
Macros: varies based on the number of strawberries added since none of the other ingredients impact the macro profile of this recipe. Each strawberry will contain the following: 53 calories, 1.1g Protein, 12.7g Carbohydrates

*recipe makes 6 servings*
Remember to stay tuned to our newsletter and social media feeds for future Crush It Café recipes, nutrition tips and product launches.
About the Author: 
This recipe was created by Emily Interwicz, one of Core's sponsored athletes. You can follow Emily for exercise, nutrition and bodybuilding tips via her Instagram page @emilylauren_d

Emily became a Core Nutritionals Sponsored Athlete after 3 years of being an Ambassador and living the Crush It Lifestyle. She owns E.L. Fit - an online fitness and nutrition coaching business where she helps others on the path to living their best and healthiest lives. She also competes in both the NPC and NANBF as a natural bikini athlete.