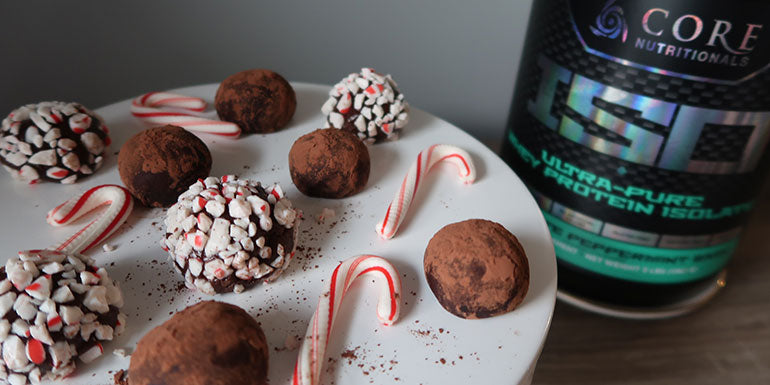 You'll never guess these decadent truffles are packed with protein and a dessert you'll feel good about eating. Impress your family and friends with these fancy truffles for the holidays.
Ingredients:
1 scoop (29.4g) Core Nutritionals ISO chocolate mint cookie
1 T. (5g) cocoa powder
2 T. (12g) powdered peanut butter, chocolate flavor
2 T. (32g) almond butter
1 T. (21g) honey
1/8 tsp. mint extract
1-2 T. water
Dash of salt
12g crushed mint candy for rolling
Directions:
In a small mixing bowl, measure protein powder, cocoa powder, PB2 and salt. Stir to combine. Add wet ingredients – almond butter, honey, mint extract and 1 T. of water. Mix with a fork; dough will be very sticky. Add just enough water to combine, but don't add too much or they will be too sticky. Refrigerate for 5-10 minutes so the dough becomes pliable.
Measure approximately 18-19g dough and roll to form six equal sized balls. Roll each truffle in 2g of crushed mint candy. Refrigerate remaining truffles and best consumed within 1 day.
Macros
Serving Size: 1 truffle:

75 calories
5.5g Protein
6.6g Carbohydrates
3.5g Fat

Recipe makes 6 truffles