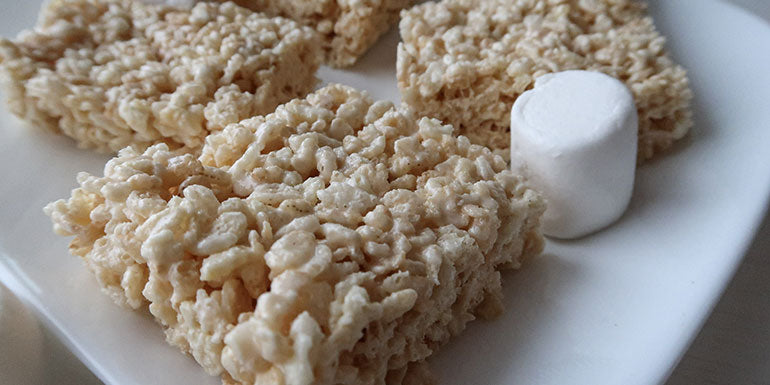 Rice krispie treats are a classic dessert and made with virtually all carbohydrates. Our verion uses light butter to reduce the fat to just 1.5g per serving and added a scoop of vanilla protein powder. Pair one with a protein shake and you'll have a quick treat post-workout.
Ingredients:
100g rice krispies cereal
150g mini marshmallows
2 T. (28g) light butter (Brummel & Brown brand light yogurt butter works well)
1 scoop (28.4g) Core Nutritionals ISO vanilla cake
Directions:
In a medium sized bowl, measure rice krispie cereal and sprinkle protein powder on top. Prepare 8x8 pan by spraying with non-stick cooking spray (we recommend using butter or flour flavor).
In a microwave safe bowl, measure mini marshmallows and butter. Melt in microwave in 30 second bursts stirring each round until melted. Pour melted marshmallows mixture over cereal and stir to coat. Pour into prepared pan and using a spatula press down slightly. If the mixture is sticking you can lightly spray your spatula with non-stick spray. Let cool to harden. Cut into 8 bars, about 36g pieces for equal sizes. Store remaining bars in airtight container.
Macros
Serving Size: 1 bar - 138 calories

4g Protein
27g Carbohydrates
1.5g Fat

Recipe makes 6 bars