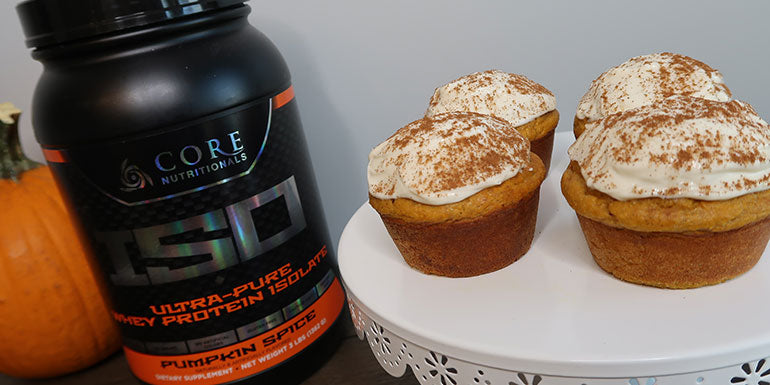 Lightly spiced cupcakes with a cool cream cheese frosting make these cupcakes delectable. They are packed with protein and make a great sweet treat.
Ingredients:
1 T. (14g) coconut oil, melted
½ cup (120g) pumpkin puree
½ tsp. vanilla extract
1 whole egg
1-2 T. no-calorie sweetener, like Splenda
¼ tsp each: baking soda, baking powder, salt
½ tsp. pumpkin pie spice or cinnamon
12g (1/8 package) dry pumpkin spice pudding mix
40g paleo flour (may substitute almond or coconut flour)
40g Core Nutritionals ISO Pumpkin Spice
2 T. skim milk (may substitute almond milk or water)
Directions:
Preheat oven to 350 degrees. In a microwave safe bowl, mix coconut oil in 15-30 second bursts stirring until smooth. Add pumpkin purée and vanilla extract. Whisk in egg and sweetener (use more sweetener depending on your taste). Add in remaining dry ingredients and alternate stirring with milk to incorporate.
Use non-stick spray to coat 4 cupcake tins. Evenly distribute batter (approximately 262g each) and bake for 13-15 minutes until a toothpick comes out clean. While baking, prepare the frosting.
Frosting:
28g (1oz.) light cream cheese (softened to room temperature)
50g vanilla Greek yogurt
10g Core Nutritionals PRO Vanilla Frosted Cupcake
Mix all ingredients in a small bowl and refrigerate to thicken. Once cupcakes are cool, spread frosting (approximately 22g frosting) evenly over cupcakes. Sprinkle pumpkin pie spice or cinnamon on top. Best consumed immediately or store remaining cupcakes for 1-2 days in the refrigerator.
Macros
Serving Size: 1 cupcake

13.2g Protein
14.3g Carbohydrates
7.1g Fat

Recipe makes 4 cupcakes