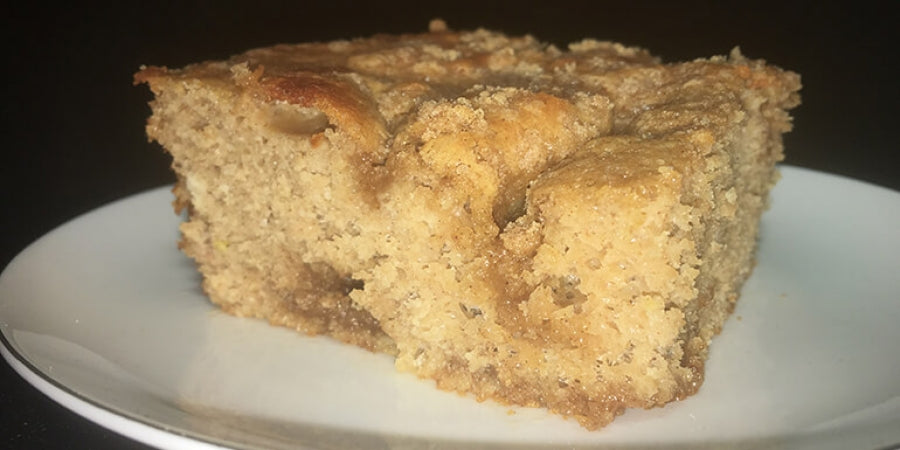 Just like it's hard to imagine starting a morning off without coffee, it's equally as hard to imagine dieting for months without enjoying coffee cake along with it. We don't want you feeling hungry and sad all morning while you're dieting, so we made a macro-conscious coffee cake to get you through those tough mornings and keep you rolling along with your diet!
Ingredients
Wet Ingredients:
1 tsp vanilla extract
8oz sour cream 
2 whole eggs 
1/2 cup apple sauce
Dry Ingredients:
75g Snickerdoodle Core MRP
95g Cinnamon Roll Pro
160g multigrain pancake mix 
1 tbsp of cinnamon (flavor as desired) 
1 tsp baking soda
1 tsp baking powder 
1/4 tsp sea salt
Topping (Optional):
50g Snickerdoodle Core MRP
32g Cinnamon Roll Core Pro
3 tbsp of margarine
1 tbsp cinnamon 
60g brown sugar zero calorie sweetener
Directions
Preheat oven to 350 degrees.
In two separate bowls, combine wet ingredients together and dry ingredients together. Bake for 35-45 minutes or until just golden brown, then remove and allow to cool slightly. For the topping, combine all ingredients except margin. Then cut in margin until evenly distributed and a topping of "crumbs" is created to top cake with when finished baking.
Macros
Servings: 9 Slices
Serving Size: 1 Slice
Without Topping:
3g Fat
23g Carbohydrate
15g Protein
With Topping:
5g Fat
32g Carbohydrate
20g Protein