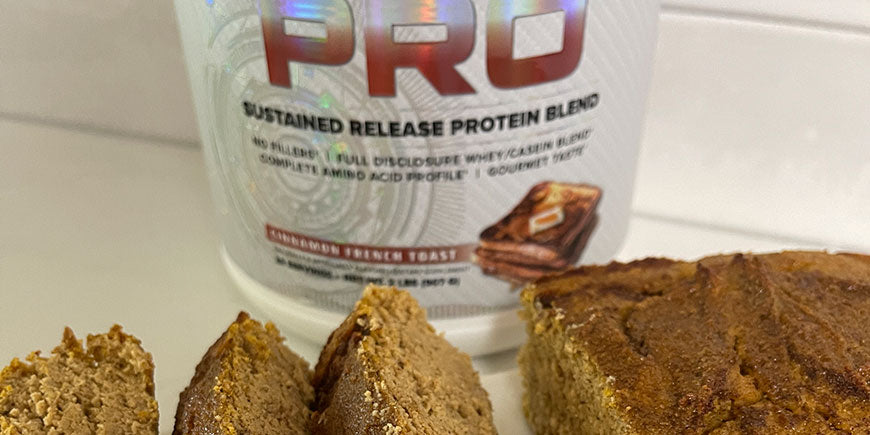 Banana bread is one of my top guilty pleasures! But most banana breads are on the higher end when it comes to carbs and fats, and lacking hardly any protein. So I got in the kitchen and created a recipe that not only tastes like the real deal, but clocks in at a much better macronutrient profile.
There's only one thing that can make banana bread better. Drumroll please… pumpkin! I'm one to believe that pumpkin should be enjoyed year round, but there is just something extra special about eating it this time of year. So I subbed out some of the banana in my typical recipe for canned pumpkin. This not only tastes amazing, but it makes the bread extra moist! I know, I know, we all hate the "m word", but when it comes to bread this is a key descriptor!
There are endless ways to enjoy this bread! Pairing it with a cup of coffee in the morning or topping with nut butter and eating for dessert are two of my all-time favorites.
Tip: Make sure you store this bread in the refrigerator. It can go bad quicker if you store it in the pantry.
A quick run-down of the ingredients:
Core PRO: I used Cinnamon French Toast as it complements the pumpkin so well, but feel free to switch up your flavors. Frosted Vanilla Cupcake would be a second solid choice!
Eggs: I wouldn't recommend using egg whites instead of eggs here. Whole eggs prevent the bread from getting too dry.
Banana: the riper the better! I don't recommend using bananas that are even partially green on the outside. The more black the peel is the sweeter the banana will be. This also makes them easier to mash.
Pumpkin puree: Pumpkin adds flavor and is loaded with additional nutrients. My go to is always Libby's 100% Pure Pumpkin. Make sure you get the pure pumpkin and not the pumpkin pie mix!
Coconut flour: You could sub out oat flour or all purpose flour, but I love the density and texture the coconut flour gives to this bread. Keep in mind subbing to a different type of flour will up the carbs in this recipe.
Almond butter: Feel free to use any of your favorite nut butters here. Fair warning- I have made this once with sunflower butter and it turns the bread a green hue! It still tastes amazing, but the color can be slightly alarming.
Spices + stevia: If you're more of a pumpkin spice fan, you could easily add in nutmeg, cloves or ginger to ramp up that spice flavor. The amount of stevia you use can vary depending on how sweet you want it and the type of stevia you use. I suggest adding a minimal amount and taste testing the batter before baking. The banana and protein powder both add a good amount of sweetness, so you can always omit the stevia all together.
Pumpkin Banana Bread Recipe:
 Ingredients:
32g (1 scoop) Cinnamon French Toast PRO
2 whole eggs
120g mashed banana
122g (1/2 cup) canned pumpkin puree
56g coconut flour
64g almond butter
1 tsp maple or vanilla extract
3/4 tsp baking powder
1/2 tsp cinnamon
1/4 tsp salt
Stevia to taste
Instructions:
Preheat your oven to 350 degrees.
Spray your preferred baking dish with nonstick cooking spray or line with parchment paper.
Add all dry ingredients to a mixing bowl.
Add wet ingredients and mix until well combined. Ensure there aren't any chunks of banana. You may need to add a little bit of water to help thin out the batter some.
Pour into your baking dish. Optional step: sprinkle additional cinnamon on top.
Bake for 45 minutes.
This can be eaten warm right away, but I personally prefer to eat it cold after it's been in the refrigerator overnight. This lets all the flavors fully set in.
Store in refrigerator.
Nutrition Facts
Serving Size: 8 slices
Per slice:
130 calories
11g carbs
6g fat
8g protein
About the Author
This recipe was created by Emily Interwicz, one of Core's sponsored athletes. You can follow Emily for exercise, nutrition and bodybuilding tips via her Instagram page @emilylauren_d
Emily became a Core Nutritionals Sponsored Athlete after 3 years of being an Ambassador and living the Crush It Lifestyle. She owns E.L. Fit - an online fitness and nutrition coaching business where she helps others on the path to living their best and healthiest lives. She also competes in both the NPC and NANBF as a natural bikini athlete.