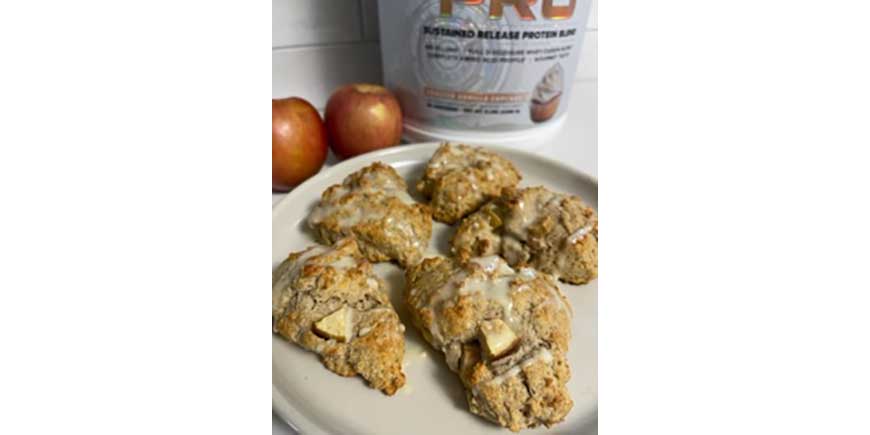 What's up Crush It Crew?
Pumpkin usually gets all the love this time of year, but one of my favorite fall flavors is actually APPLES!
I don't know about you, but there's just something about a scone with a cup of coffee that feels so fall… and fancy! I'm giving Starbucks a run for their money with these babies. My apple scones are incredibly macro friendly, and leave you feeling full and warm!
Your traditional scone is likely going to be packed with carbs, heavy on fats and chalk full of sugar. I've created a scone that is not only much lower in fat but is packed with protein and has no extra added sugar. They make for a healthy breakfast, the perfect pre workout snack or a guilt free any time of day.
Tip: Your scone batter is going to be THICK! Expect a full arm workout mixing your ingredients together, but do resist the urge to add water to your batter. If your batter is too thin you'll sacrifice that dense scone texture.
These scones can be eaten right away or stored in an airtight container for up to 3-4 days. These are also freezer friendly, just individually wrap your scones in plastic wrap or foil and place in a Ziploc bag. Once your ready to eat, let them defrost and reheat in the oven, microwave or air fryer. Even if you aren't freezing them, I highly suggest warming them up in the microwave for about 15-30 seconds before digging in.
A quick run-down of the ingredients:
Core Nutritionals PRO: the whey and casein blend makes it the perfect choice for baking.
All purpose flour: Can be subbed for a whole wheat or gluten free flour, but I would not try swapping for oat or almond flour. This will change the texture and consistency of your scones.
Coconut flour: This helps with the overall texture of the scone and keeps it slightly lower carb. You could sub this out for additional all purpose flour if you'd prefer.
Egg whites: the recipe calls for egg whites but you can swap these out for 2 whole eggs.
Butter: can be subbed out for coconut oil or ghee. Do not skip this all together or your scones will be too dry.
Apples: I used my Fuji apples, but feel free to use your favorite type of apple.
Stevia: I use the Kal brand, which is much sweeter than baking stevia or the packets of stevia. If you are using baking stevia you will likely want to use around ¼ cup.
Apple Protein Scones
Ingredients
Scone batter:
 Ingredients:
90g Frosted Vanilla Cupcake PRO
150g all-purpose flour
56g coconut flour
100g diced apples
44g butter
184g egg whites
2 tsp cinnamon
1 tsp vanilla extract
½ tsp baking powder
1/4 tsp salt
Stevia to taste
Icing:
10g Frosted Vanilla Cupcake PRO
water
Instructions:
Preheat your oven to 350 degrees.
In a large mixing bowl, whisk together all your dry ingredients.
Add your wet ingredients and mix well to form a soft dough.
Add in diced apples.
Place your bowl in the freezer for about 5 minutes to place it easier to mold and cut.
Line a baking sheet with parchment paper or spray with non stick cooking spray.
Place your dough on the baking sheet and form into a giant circle about ½-1 inch thick.
Cut your circle into 8 equal size wedges. Use a knife or spatula to carefully pull your wedges apart to allow room for them to rise when baking.
Bake for 25-30 minutes until your scones are golden brown. The center should still be somewhat soft.
Mix together 10g of Frosted Vanilla Cupcake PRO with a little bit of water at a time until you've reached a frosting consistency.
Once your scones are done and cooled, evenly drizzle frosting over them.
Dig in!
Nutrition Facts
Recipe makes 8 scones
 1 scone with frosting:
215 calories
21g carbs
8g fat
15g protein
3g fiber
About the Author
This recipe was created by Emily Interwicz, one of Core's sponsored athletes. You can follow Emily for exercise, nutrition and bodybuilding tips via her Instagram page @emilylauren_d
Emily became a Core Nutritionals Sponsored Athlete after 3 years of being an Ambassador and living the Crush It Lifestyle. She owns E.L. Fit - an online fitness and nutrition coaching business where she helps others on the path to living their best and healthiest lives. She also competes in both the NPC and NANBF as a natural bikini athlete.