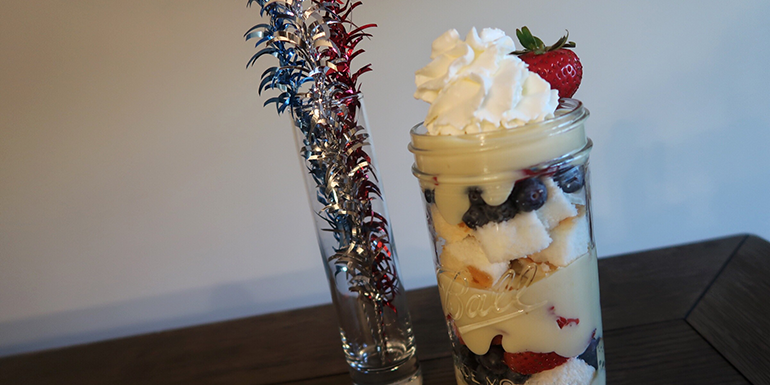 There's always a BBQ or party to attend in the summer with not so dietfriendly eats. Here's a fresh dessert with 35g protein that tastes amazing and looks aesthetic too. Split into four, 4oz mason jars for smaller portions and share with your friends!
Ingredients
1 scoop (32g) Core Nutritionals PRO Vanilla Frosted Cupcake
¼ serving (8g) Sugar-free instant vanilla pudding
50g Danon okios triple 0 vanilla greek yogurt
½ cup skim milk
1 serving (38g) Angel Food cake
½ cup sliced strawberries
¼ cup fresh blueberries
1 serving (2 T. 5g) Fat Free Redi whip
Directions
In a small bowl, mix dry protein powder and pudding. Add milk and whisk until there are no clumps. Add greek yogurt and whisk until smooth. Refrigerate for 10 minutes until set. Slice angel food cake into bite size pieces. Quarter strawberries and wash fresh blueberries. Assemble parfait in layers: pudding, cake, strawberries then blueberries then repeat until you have 2-3 layers. Top with one serving of whipped cream. Serve immediately.
Macros
Serving Size:1 parfait (16oz. mason jar pint)
Servings: 1
372 calories
3.6g Fat
50g Carbohydrates
35g Protein