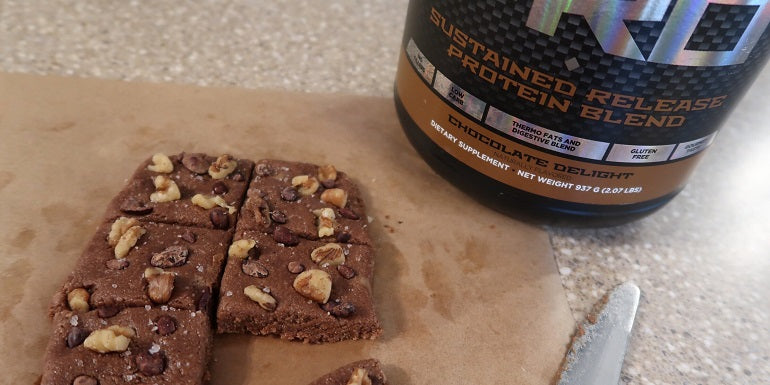 Why haven't we made protein fudge sooner? It's the perfect sweet treat and takes just 5 mintues to make. No baking is required so make this protein packed treat so when you are craving something sweet you won't have to wait for it to bake. We made it extra decadent by adding some salty and sweet toppings.
Ingredients
½ T. (7g) coconut oil, melted
1 T. (21g) honey
2 T. (32g) peanut butter
1 scoop Core Nutritional PRO Chocolate Delight
1/3 cup (23g) Bob's Red Mill Paleo flour
2 T. unsweetened almond milk
Toppings
¼ serving (7g) chopped walnuts
1 tsp. (4g) cacao nibs
Sea salt
Directions
In a microwave safe bowl, melt peanut butter and honey and stir until smooth. Add protein powder and paleo flour. Add 1T. of almond milk at a time and stir until smooth. Cut a square of parchment paper and pour fudge onto it. Using your hands form into a small rectangle. Evenly place toppings (walnuts and cacao nibs) and press into fudge slightly. Sprinkle with sea salt. Refrigerate for 15 minutes then slice into 6 even pieces. It can be consumed immediately, but will be more difficult to slice. Best kept in fridge for up to 3 days.
*Can substitute coconut or oat flour for coconut flour, but will change macros.
Macros
Serving Size: 1 piece
Servings: 6
97 calories
5g Fat
7g Carbohydrates
6g Protein