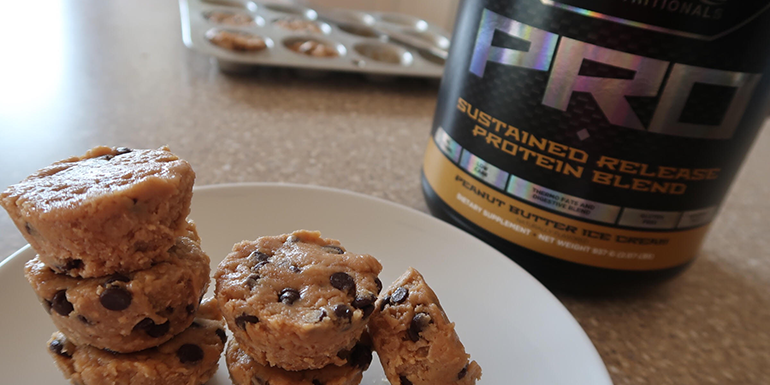 These little cups are the perfect sweet treat after your meal. Who doesn't enjoy a spoonful of raw cookie dough? Now you can without feeling guilty, these cookie dough cups were made to eat before baking. The macros are diet friendly (5F, 10C, 6P) without sacrificing taste.
Ingredients
2 T. (32g) cashew butter
2 T. (14g) PB2 (powdered peanut butter)
3 T. unsweetened almond milk
¼ tsp vanilla extract
Dash of salt
1 T. no calorie sweetener of your choice (i.e. stevia, Splenda)
1 scoop (32g) Core Nutritionals PRO Peanut Butter Ice Cream
¼ cup (40g) flour of your choice (oat, almond, or coconut flour)
2 T. (30g) mini chocolate chips
Directions
In a small microwave safe dish, cashew butter for 15 seconds. Add PB2 and almond milk then stir until smooth. Stir in vanilla and salt. Add protein powder, flour and sweetener. Fold in chocolate chips. Using butter flavored or baking non-stick cooking spray, lightly grease 6 mini muffin tins. Evenly distribute dough between the cups and press down lightly. Freeze for 15 minutes. Store in an airtight container in the freezer for refrigerator.
(If you do not have oat flour, simply grind whole oats in food processor until it becomes a powder. You can substitute a different flavor of PRO or nut butter if desired.)
Macros
Serving Size: 1 mini cup
Servings: 6
109 calories
5g Fat
10g Carbohydrates
6g Protein