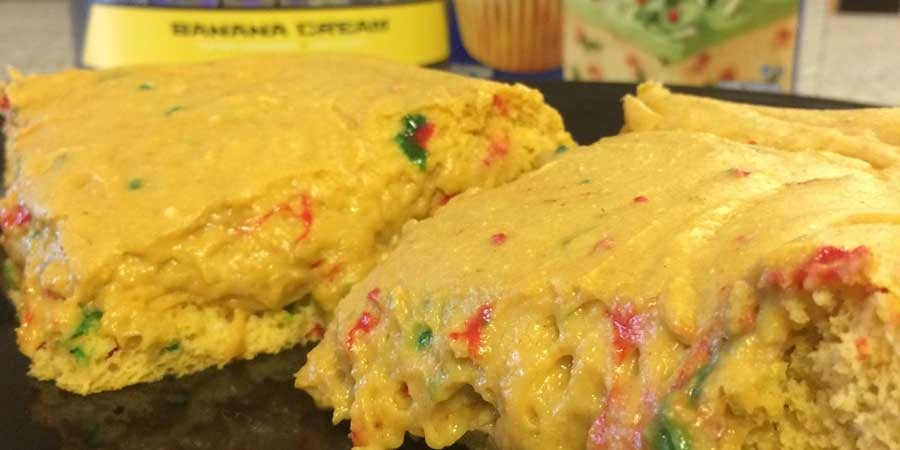 Homemade cakes are great, but sometimes we just don't have the time to make every dessert from scratch. But since when did convenience mean sacrificing quality? Most boxed cakes are filled with simple carbs and contain little to no micronutrients, fiber or protein; but oh man do they taste good!
Since we love the convenience and taste of boxed cake mixes, but also take our diets seriously, we combined the two. With our Funfetti Fit Cake, we substituted the oil, whole eggs and half of the standard cake mix for more nutrient dense ingredients including our Core MRP for a more balanced, diet friendly dessert without losing any of the flavor!
Ingredients
Dry Ingredients:
140g (4 scoops) Banana Cream CORE MRP
215g (1/2 the mix) Pillsbury Funfetti Cake Mix
Wet Ingredients:
½ cup (120g) canned pumpkin
200g egg substitute
Directions
Preheat oven to 360° Fahrenheit. Mix ground flaxseed with 1 tbsp of water and set aside in small bowl. Combine all ingredients into a bowl and mix well, adding in moistened flaxseed last. Pour the batter into a lightly sprayed, 9x9 inch cake/brownie pan. Bake for 16-18 minutes. Allow to cool slightly before serving.
Macros
Serving Size: 1 Slice
Servings: 4 Slices 
356 calories
4g Fat
60g Carbohydrate
20g Protein