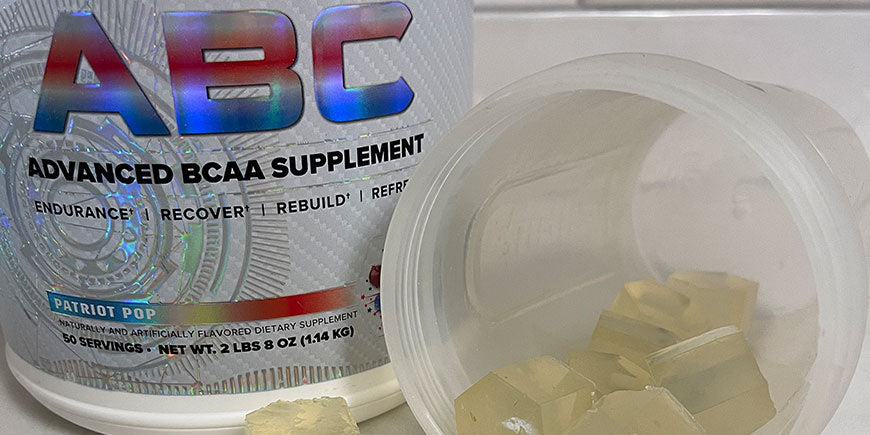 There's just something about gummy candies that make things so much more fun. These ABC Gummies are incredibly easy to make and offer an exciting way to maximize your gains!
If you aren't already using BCAAs, what are you doing with your life?! Kidding, but also not.  BCAAs, branch chain amino acids, are the building blocks of protein. They include 3 specific essential amino acids- leucine, isoleucine and valine, that are famous for their role in building muscle. Along with branch chain amino acids, Core's ABC formula includes beta alanine, citrulline malate and glutamine, all which further support tissue building and recovery, making them the best of the best on the market! They are an excellent, and I'd say vital, addition to your supplement regimen to help you build and retain the most muscle mass possible and enhance the real key to muscle building- recovery!
BCAAs are especially important if you are working out in a fasted state. Whether it's cardio or weightlifting, you want to have something in your system to help prevent catabolism, or muscle breakdown. And ABCs do just that!
These would also be great for someone who is in a dieting phase. I don't know about you, but I like having something I can actually eat, instead of just drinking. It helps fill my stomach and satisfies that need to chew. Added perk- it can help curb those sweet tooth cravings!
Tip: Make sure you drink some extra water as you are eating these. For 2 scoops of ABCs you would typically mix them in 16-32 ounces of water. But using this much water would be too much to create a gummy texture. So i like eating these alongside an extra 10-12oz of water. Stay on top of your hydration friends!
A quick run-down of the ingredients:
Core ABC: you can use any flavor your heart desires! My personal favorite is Patriot Pop. It tastes like a bomb pop and I literally can't get enough. You could get even more creative by mixing two flavors together to create your own flavor combo. Sweet Tea and Lemon Drop… sounds like a WIN to me!
Gelatin: make sure you are using an unflavored gelatin. I like the Knox brand because it comes in pre-portioned packets that are 8g each. For every 2 scoops of ABCs, you'll want to use one packet of gelatin. You can find this at most grocery stores in the baking aisle or on Amazon.
You'll also want to make sure you have a silicone gummy mold on hand. You can buy these at some grocery or specialty stores, or Amazon has a huge selection of different mold sizes and shapes. The silicone mold makes the gummies incredibly easy to remove without sacrificing the shape.
ABC Patriot Pop Gummies
Makes 1 serving: 0c/0f/8p // 32 calories total
2 scoops Patriot Pop Core Nutritionals ABCs
4oz water
8g (1 packet) unflavored gelatin powder
Instructions:
In a small saucepan, bring 4oz of water to a boil over high heat.
Add in 2 scoops of ABCs and whisk together quickly until fully dissolved.
Reduce heat to the lowest setting and quickly whisk in the gelatin. This can get clumpy quick, so move fast!.
Once the gelatin is fully dissolved, remove your saucepan from the heat. Use a dropper or carefully pour your mixture into your silicone gummy mold.
Place in the refrigerator to set completely, usually 2-3 hours depending on the size of your molds.
Carefully pop your gummies out of the molds by bending back and forth.
Get snacking! If you aren't planning to eat these immediately or making multiple servings at once, store them in an airtight container in the refrigerator for up to 1 week.
Nutrition Facts
32 calories
0g carbs
0g fat
8g protein
About the Author
This recipe was created by Emily Interwicz, one of Core's sponsored athletes. You can follow Emily for exercise, nutrition and bodybuilding tips via her Instagram page @emilylauren_d
Emily became a Core Nutritionals Sponsored Athlete after 3 years of being an Ambassador and living the Crush It Lifestyle. She owns E.L. Fit - an online fitness and nutrition coaching business where she helps others on the path to living their best and healthiest lives. She also competes in both the NPC and NANBF as a natural bikini athlete.