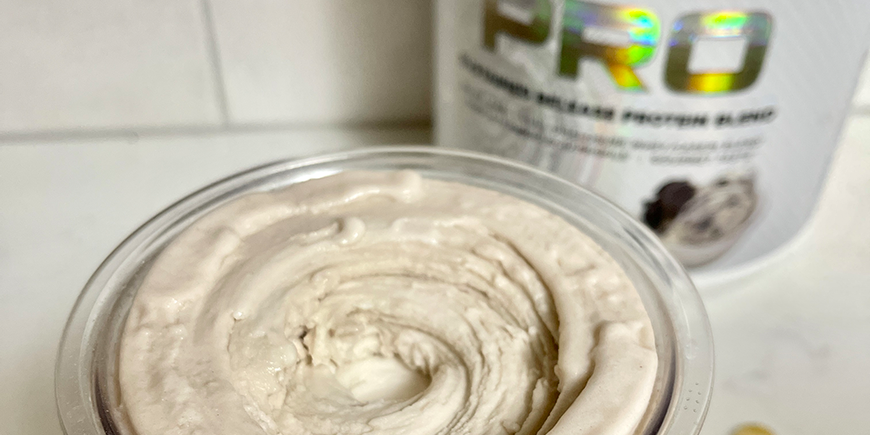 What's up Crush It Crew?
You get a Creami, and you get a Creami, and you get a Creami! Creamis for EVERYONE!
Unless you've been living under a rock, but you know what a Creami is and have been able to enjoy all of its delight yourself. But I'm about to change your Creami game with this Core Creami recipe. I've tried several other protein/milk combos, but using Core PRO is by far and away my favorite way to make my Creami bases.
Creamis are incredibly versatile! The base is low carb, so they're perfect for all of you in prep. If you're looking for something to take up more carbs and fats, you can add whatever mix ins your heart desires. They make a great treat any time of day. You could have an entire pint of ice cream for breakfast, and not feel one bit bad about it because it's packed with protein. The perfect way to start your day!
A quick run-down of the ingredients:
Core PRO: The whey/casein blend helps make the ice cream extra creamy. There are so many flavors to choose from! Scroll to the bottom to jump to my favorite flavor combos!
Sugar Free Jello Pudding Mix: this helps thicken the ice cream more. It also adds a way for you to create endless flavor combos with your protein.
Cashew milk: feel free to switch up your milk source here. Almond milk works too, but I find the cashew gives it a bit of extra creaminess. I would hesitate using just water, as the even just a tiny bit of fat that comes with the cashew or almond milk helps with consistency.
Stevia: adjust according to your own personal sweet tooth!
Salt: adding salt to an ice cream blend helps it freeze more cohesively.
No Fail Core Creami Base:
Makes 1 Serving: 7c/5f/22p // 161 calories
30g Core Nutritionals PRO
4g Sugar Free Jello Pudding Mix
240g unsweetened cashew milk
stevia + dash of salt
Instructions:
Combine all ingredients in your Creami container and whisk together.
Put the lid on the container and freeze on a flat surface for at least 12 hours.
When you're ready to eat it, take your container out of the freezer and first blend on the Lite Ice Cream setting.
Re-spin 1 to 2 times until you've reached your desired consistency.
Dig in!
Nutrition Facts
Entire recipe:
161 calories
7g carbs
5g fat
22g protein
Like I said, the flavor combinations are literally endless! Some of my personal favorites are:
Cookies n Cream: Cookies n Cream PRO + White Chocolate pudding mix
Pistachio: Pistachio Ice Cream PRO + Pistachio pudding mix
French Toast: Cinnamon French Toast PRO + Vanilla pudding mix
Banana Pudding: Frosted Vanilla Cupcake PRO + Banana Cream pudding mix
Cheesecake: Frosted Vanilla Cupcake PRO + Cheesecake pudding mix
Butterfinger: Death By Chocolate PRO + Butterscotch pudding mix
Cereal Milk: Fruity Cereal PRO + Vanilla pudding mix
Lemon Cake: Frosted Vanilla Cupcake PRO + Lemon pudding mix
Key Lime: Frosted Vanilla Cupcake PRO + Lime jello mix
About the Author
This recipe was created by Emily Interwicz, one of Core's sponsored athletes. You can follow Emily for exercise, nutrition and bodybuilding tips via her Instagram page @emilylauren_d
Emily became a Core Nutritionals Sponsored Athlete after 3 years of being an Ambassador and living the Crush It Lifestyle. She owns E.L. Fit - an online fitness and nutrition coaching business where she helps others on the path to living their best and healthiest lives. She also competes in both the NPC and NANBF as a natural bikini athlete.