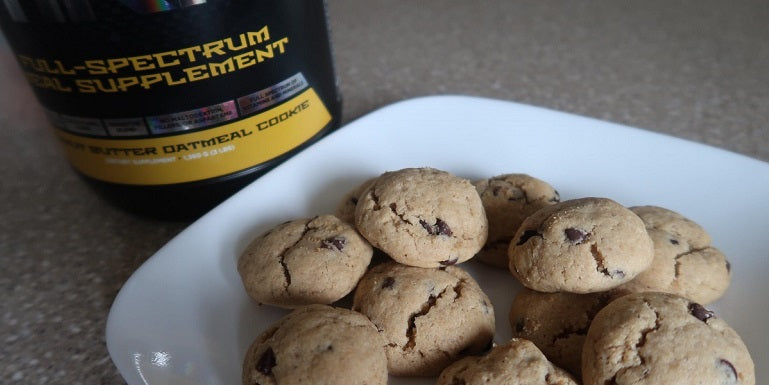 Everyone loves a classic chocolate chip cookie so we made a few healthier swaps and created our own protein packed version. Our meal replacement protein is the perfect base for our cookies since it has oat and barely flour plus the flavor is amazing. Cumble a cookie on top of your ice cream, yogurt or sludge for a delicious treat!
Ingredients
4T. butter, softened
2 T. (24g) sugar
2 T. (32g) peanut butter
1 whole egg, at room temperature
½ tsp. vanilla extract
1/8 tsp. baking powder
1/8 tsp. baking soda
¼ tsp. salt
2 scoops Core Nutritionals MRP Peanut Butter Oatmeal Cookie
¼ cup (23g) Bob's Red Mill Paleo Flour
2 T. (30g) mini semi-sweet chocolate chips
Directions
Cream butter, peanut butter and sugar until smooth with no lumps. Add egg and vanilla and mix well. Stir in dry ingredients – baking powder and soda, salt, protein powder and paleo flour. Fold in chocolate chips. Refrigerate dough for 1-2 hours (don't skip this step!). Roll into 12 evenly sized balls and place on baking sheet. Bake cookies at 350 (using baking stone or airbake sheet for optimal results) for 8-10 minutes. Remove from pan and place on cooling rack. Store in an airtight container.
Macros
Serving Size: 1 cookie
Servings: 12
111 calories
7g Fat
8g Carbohydrate
4g Protein