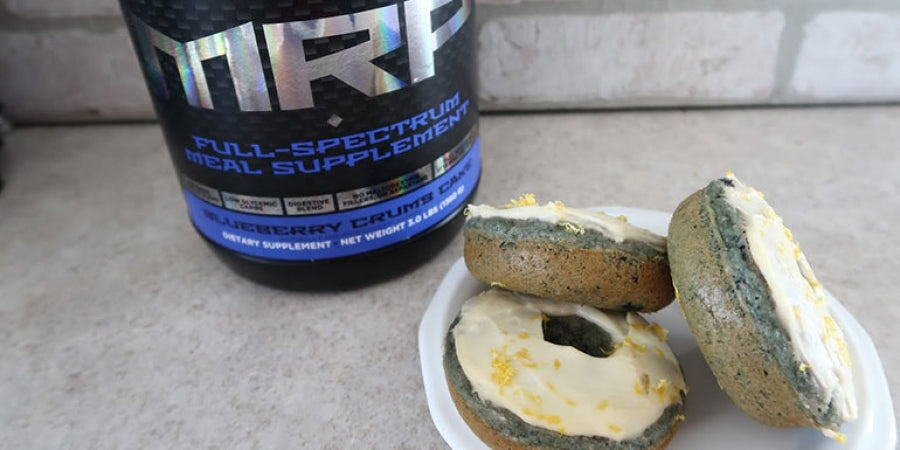 The newest flavor of the MRP family is Blueberry Crumb Cake and the flavor is on point. We used two scoops of protein to create these donuts which are great with or without the frosting. One donut packs 11g protein with frosting and no longer will eating a donut derail your diet.
Ingredients
1 T. (14g) coconut oil, melted
1 whole egg
½ tsp vanilla extract
50g Fage total 0% greek yogurt
¼ cup almond milk
2 scoops (64g) Blueberry Crumb CakeCore MRP
1 serving (66g) Kodiak Cakes Blueberry Lemon Muffin Mix
1 T. no calorie sweetener
½ tsp. baking soda
½ tsp. baking powder
¼ tsp. salt
¼ cup blueberries
Lemon zest for garnish
Directions
Melt coconut oil in microwave safe bowl until melted. Let cool slightly so you don't end up with scrambled eggs. Add vanilla extract, sweetener and greek yogurt to bowl and mix well. Crack egg and mix. Now add dry ingredients: protein powder, muffin mix, baking soda, baking powder and salt. Add almond milk and blueberries and mix until combined. Spray donut pans with non-stick cooking spray and evenly distribute batter into 6 donuts. Bake at 325 for 8-10 minutes. Do not overcook as they will be dry. Cool on a drying rack while you mix frosting.
Frosting Ingredients
1.5 ounces non-fat cream cheese
25g Fage total 0% greek yogurt
1 tsp. no calorie sweetener
10g Vanilla Frosted Cupcake Core Pro
1 T. almond milk
Soften cream cheese in microwave for 10 seconds or let warm up to room temperature. Mix cream cheese, greek yogurt and sweetener until combined. Alternate adding protein powder and almond milk mixing until smooth. Spread over donuts and zest lemon on top for garnish. Store donuts in refrigerator for 1-2 days.