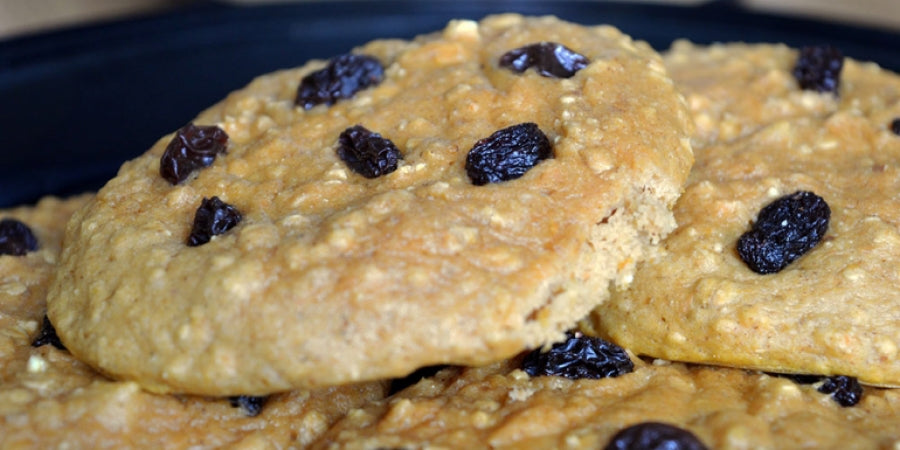 Nothing says "home" like fresh baked oatmeal cookies! However, nothing says, "busted diet" like eating an entire batch of cookies in one sitting. We personally enjoy eating cookies, and making gains too, so we whipped up an oatmeal cookie recipe using our Snickerdoodle Core MRP that makes for a delicious, filling pre-workout meal or healthy snack to be shared with the kids on movie night!
Ingredients
Dry Ingredients:
100g Snickerdoodle Core MRP
40g quick oats
1/4 cup zero calorie sweetener
1.5 tsp baking powder
1/2 tsp baking soda
1/8 tsp salt
16g Raisins
Wet Ingredients:
1 whole egg
100g canned pumpkin
3oz water
Directions
Preheat oven to 350 degrees Fahrenheit. Combine all dry ingredients, except for the raisins, and mix well. Next, whisk the egg and add into the dry ingredients along with all other wet ingredients. After mixing well, spoon dough onto a lightly sprayed baking pan. Lastly, place raisins on top of each cookie before placing into the oven.
Bake for 6-8 minutes before removing and allowing to cool for several minutes. As the cookies cool on the pan, they will finish cooking in the middles while remaining soft and chewy.
Macros
Serving Size: 1 Cookie
Servings: 6 Cookies
112 calories
2g Fat
15g Carbohydrate
9g Protein