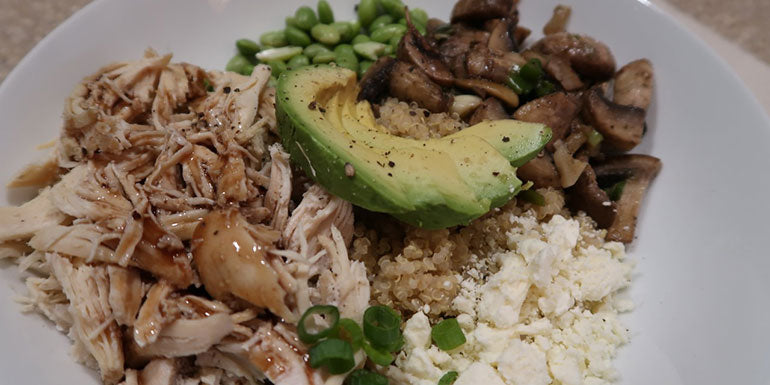 When you need a filling meal packed with protein, this is your go-to meal! It's full of flavor and packs the micronutrients. If you need to reduce the carbs, swap the quinoa for cauliflower rice or layer your toppings on bed of spinach or romaine lettuce.
6oz. boneless, skinless chicken breasts
¼ (45g) cup quinoa
3oz. (85g) mushrooms
¼ cup (28g) onion
¼ tsp each: salt and pepper
½ cup (75g) edamame
30g avocado
28g reduced fat feta cheese
2T. (30g) fat free balsamic vinegar dressing
Directions:
Cook quinoa according to package directions. Cook and shred chicken (see note below).
Cut mushrooms and onions then sauté over medium heat until soft seasoning with salt and pepper.
In a wide bowl, arrange quinoa, chicken, edamame, mushrooms and onions, one serving reduced fat feta cheese, slice avocado, then drizzle balsamic vinegar over chicken. Don't forget the freshly ground black pepper and sea salt over the dish too. Enjoy!
Macros
Recipe makes 1 serving
Each serving: 554 calories, 59.3g Protein, 45.2g Carbohydrates, 18g Fat
Note:
For this recipe, it's best to use shredded chicken, rotisserie chicken or cook chicken in an air fryer. Shredded chicken can be made in the crockpot by adding 5-6 chicken breasts seasoned with salt, pepper and garlic powder then adding 32 oz. chicken broth. Cook on low for 5 ½ hours, drain liquid and shred.