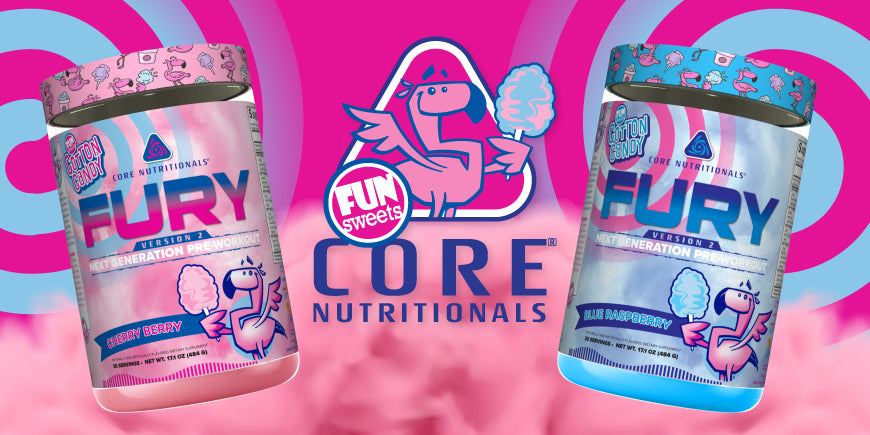 Step right up and prepare to be amazed by Fun Sweets®️ - the masters of delightful cotton candy that's bound to make your taste buds dance with joy! Picture this: a pre-workout with a burst of high-quality flavor that'll bring smiles to everyone's faces, leaving you craving for more. Except, as of August 14th, 2023, you won't have to imagine anything as we launch our latest flavor collaboration bringing the authentic flavor system of Fun Sweets®️ Cotton Candy to Core Nutritionals®️!  
Now, we've taken the magic of Fun Sweets®️ Cotton Candy and combined it with the unwavering ethics and principles of Core Nutritionals®️. The result? A one-of-a-kind sports nutritional experience that's authentic to the core! We've put our heart and soul into crafting these products, all with the goal of delivering that nostalgic, delightful joy to every consumer. 
Established in 1994, Fun Sweets®️ is an authentic, made in the USA success story and has been the number one cotton candy brand in the U.S. since 2009. With mouth-watering flavors like Cherry Berry, Blue Raspberry, Watermelon, Cupcake, and so much more, there are plenty of different flavors to choose from and enjoy, all of which come with their
Smile Guarantee! Obviously, Fun Sweets
®
' Cherry Berry and Blue Raspberry are by far the most recognizable with their pink and light blue colors, and amazingly sweet taste woven into perfect clouds of delicious cotton candy. As such, we couldn't think of two better flavors to weave into our own innovations. 
Staying true to our Core Values, principles and ethics, our primary objective with this flavor collaboration is to create the most authentic and enjoyable experience of Fun Sweets®️ cotton candy flavor system imaginable in a fitness/sports nutrition product. After acquiring the rights to the authentic Fun Sweets®️ flavoring system, the exact same ingredients used in their own products, our R&D experts set to work building out the flavors for our new products. After months of diligent work alongside the Fun Sweets®️ team, and after countless iterations in search of the flavor match to incredibly pleasant and recognizable Fun Sweets®️ flavors, we landed on two flavors as the perfect match to introduce Fun Sweets®️  to our line-up of pre-workout products.  
So, are you wondering what's in store? Our new flavor collaboration will be introduced in not just one but TWO of our best-selling products and our premier pre-workout solutions, Core FURY V2™️ and PUMP™️. This fusion of flavors will ignite your taste buds like never before and enhance your fitness journey in all new ways with a Cherry Berry and Blue Raspberry flavor for both products. 
But that's not all - brace yourself for the excitement because we have not one, not two, but THREE incredible product innovations on the way! Each one harnesses the power of these amazing flavor systems, ready to blow your mind. 
Starting August 14th, 2023, we hope you join us on this thrilling journey as we bring you the most authentic and scrumptious collaboration of Fun Sweets®️ Cotton Candy and Core Nutritionals®️. Get ready to embark on a taste adventure like no other, and we simply can't wait for you to try these sensational treats! Be sure to mark your calendars to be among the first try to this amazing new flavor collaboration!