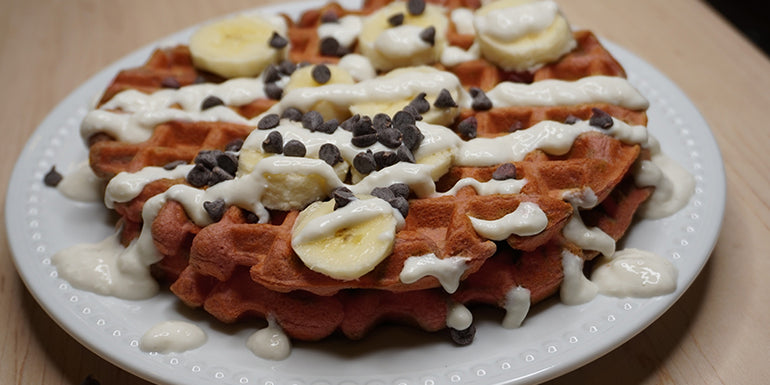 Although Valentine's Day has come and passed, here's something delicious you can make for that special someone any morning of the year! As one of the most important meals of the day, it's essential you start your day off with a macro-friendly breakie - but you don't have to smash down some egg whites or oatmeal everyday with this delicious Red Velvet Protein Waffle recipe, which even includes a healthier version of cream cheese frosting! All while using your favorite brand's whey isolate, so you know you'll get some much needed protein into your system as fast as possible.
Let's check out the recipe. To begin, here are the ingredients that you'll need to make these delicious and nutritious waffles for that special someone in your life - which could easily be your significant other, partner, or, you know, yourself!

Ingredients - Frosting:
1 tbsp cream cheese, room temp

2 tbsp Greek Yogurt

Sweetener of your choice
Ingredients -
Waffles:

 
Directions:
1.

Preheat waffle iron to medium heat.

2. In a small bowl, combine cream cheese, Greek yogurt and sweetener. Whisk until well combined. Set aside.

3. In a medium bowl, combine Core ISO Red Velvet Cake protein powder, egg and unsweetened cashew milk to a bowl. Whisk together until a smooth batter forms.

4. Spray waffle iron with cooking spray. Cook on medium high heat until indicator light is ready.

5. Drizzle with cream cheese frosting and top with any other desired fixings. Enjoy!

6. Enjoy some warm tasty goodness!
 
* If you want more festive waffles, add a couple drops of red food dye to your waffle batter*
Nutrition:
Serving size = 1 waffle with frosting: 110 calories, 18g Protein, 18g Carbohydrates, 2g Fat
*Recipe makes approximately 2 servings*
Remember to stay tuned for our upcoming blog posts, where we'll delve into the science behind these bars, discuss the importance of balanced nutrition, and provide expert tips and tricks to optimize your fitness routine. Get ready to elevate your fitness game with our milk and cereal bars – the ultimate fusion of convenience, flavor, and nutrition!