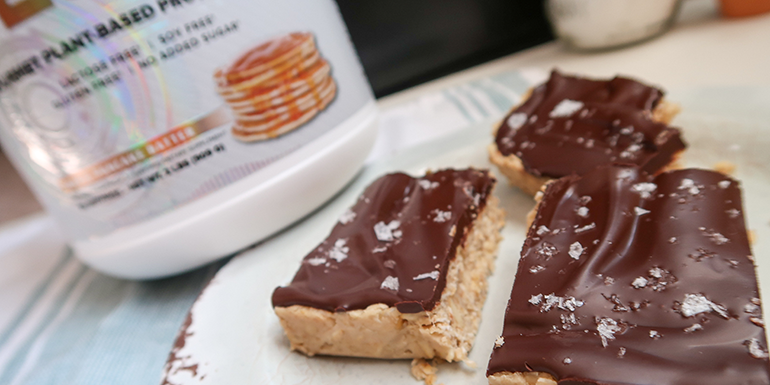 This recipe is a quick no-bake protein bar treat that's perfect for a sweet treat or anytime. These bars are made with vegan ingredients but also customizable for some ingredients. This recipe uses one of the new vegan protein flavors, Maple Pancake Batter
Ingredients:
1 scoop (30.8g) Core Nutritionals Vegan Maple Pancake Batter
½ cup (46g) paleo flour
1 cup (96g) rolled oats
2 oz. (56g) cashews, crushed
¼ cup (60mL) sugar free maple syrup
¼ cup (56g) coconut oil, melted
1 tsp. vanilla extra
Dash of salt
4 T. (56g) non-diary dark chocolate chips
1 T. (16g) peanut butter
Directions:
Prepare a 6x6 pan by lining with parchment paper.
In a medium mixing bowl, combine dry ingredients – vegan protein powder, paleo flour, rolled oats, crushed cashews and salt. (Put cashews in a food processor and pulse until chopped). Add liquid ingredients – maple syrup, melted coconut oil and vanilla extra. Stir until it becomes a sticky dough and press into prepared pan using a spatula to flatten
In a microwave safe bowl, melt chocolate chips and peanut butter. Spread over bars. Refrigerate for 30 minutes to set. Sprinkle with sea salt flakes, if desired. Cut into equal sized bars
Note: For thinner bars, use a 8x8 pan. You can substitute paleo flour for almond or oat flour. Other nuts can be substituted for cashews and cashew or almond butter can be substituted for peanut butter. Substitutions will change macros.
Nutrition:
Serving size: 1 bar (72.5g), 332 calories, 10g Protein, 28g Carbohydrates, 22g Fat
Recipe makes 6 bars