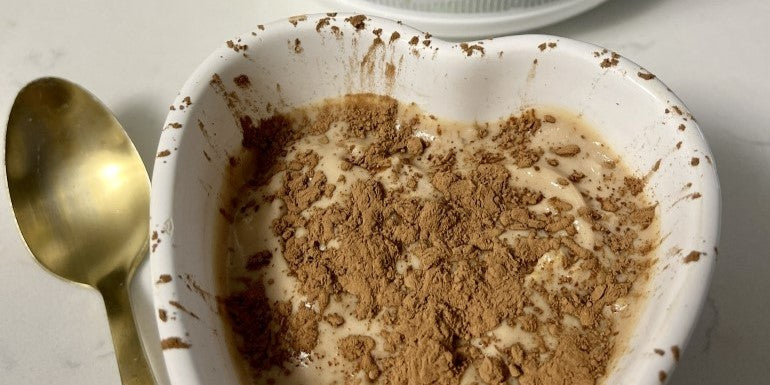 Welcome, fitness enthusiasts and dessert lovers, to another tantalizing Crush It Café recipe! Are you tired of sacrificing your sweet tooth for the sake of your gains? Well, worry no more, because today we're about to unveil a secret that will satisfy your cravings while keeping your fitness goals intact.
Just because you're living a healthy lifestyle and diligently watching your macros, it doesn't mean you have to bid farewell to decadent desserts. We believe that indulging in a delightful treat shouldn't be a guilty pleasure, but rather a guilt-free pleasure. And that's why we've got an incredible recipe lined up for you - a healthier twist on the classic Tiramisu!
Prepare to experience a mouthwatering journey that combines the best of both worlds: deliciousness and nutrition. We've carefully crafted a revamped Tiramisu recipe that not only tantalizes your taste buds but also provides an extra protein boost. Yes, you read that right - more protein!
But hold on, there's more. We're not just stopping at the protein-packed goodness. Our healthier Tiramisu alternative is also mindful of other essential nutrients. We've made clever ingredient swaps and adjustments, ensuring that you can relish this delectable dessert without compromising your health goals.
So, whether you're a seasoned bodybuilder looking to treat yourself without derailing progress or simply someone who appreciates a scrumptious dessert with a nutritious twist, this blog post is tailored just for you. Get ready to embark on a flavorsome adventure as we guide you step by step through this tantalizing recipe that will leave you feeling satisfied and guilt-free.
To get baking, continue reading from here for a detailed look including step-by-step instructions and a breakdown of the ingredient list.
Ingredients:
1 plain rice cake
60g fage 0% plain greek yogurt
17g (1/2 scoop) Core Chocolate Mocha PRO
2g white chocolate sugar free jello pudding mix
1 cup cooled coffee
Pinch of cocoa powder
Stevia to taste
Directions:
1. Mix together greek yogurt, protein powder, pudding mix + stevia. add water until you have a thick custard like consistency
2. Add layer of mix to the bottom of an individual ramekin
3. Dip rice cake in coffee + break up to fit in bowl
4. Top with the remaining yogurt mix + sprinkle with cocoa powder
5. Refrigerate for at least 30 minutes + enjoy!"
Nutrition:
Serving size = 1 cake
133 calories, 19g Protein, 11g Carbohydrates, 1g Fat
*makes 1 serving*
About the Author: 
This recipe was created by Emily Interwicz, one of Core's sponsored athletes. You can follow Emily for exercise, nutrition and bodybuilding tips via her Instagram page @emilylauren_d

Emily became a Core Nutritionals Sponsored Athlete after 3 years of being an Ambassador and living the Crush It Lifestyle. She owns E.L. Fit - an online fitness and nutrition coaching business where she helps others on the path to living their best and healthiest lives. She also competes in both the NPC and NANBF as a natural bikini athlete